1 onion
750g butternut squash
30g butter
2 garlic cloves, crushed
320ml veg stock
1 tsp ground nutmeg
250ml soya single cream
500g fresh tagliatelle
80g toasted pine nuts
2 tbsp chives
150 ml white wine
Properly delicious, this. The first time I made it I was a little underwhelmed and found it a little stodgy, but the magical addition of a little white wine into the cooking lightens and sharpens the flavour perfectly. Big filling, warming dish, which but for the pine nuts is pretty cheap, is certainly simple, and vegan.
So, how to:
Prep: 10 mins | Cook: 25 mins | Serves: 4
Nutritional info: 494 kcal, 32g carbs, 28g fat, 12g protein
Ingredients pic (less the wine, and pictured for one)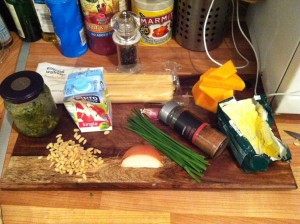 Prep the onion, garlic, weigh out the other things, make the stock, and cube the butternut squash to approx 1cm cubes. Be careful not to slip with the knife on the squash. I do this all the time. Unfun.
And then, before you start, toast your pine nuts, watch them carefully in a dry pan and brown all over, then tip out.
Next, melt the butter in a large pan, add the onions, soften, and then add the garlic and stir for a couple of minutes. Here are some pictures in case you can't imagine how that looks: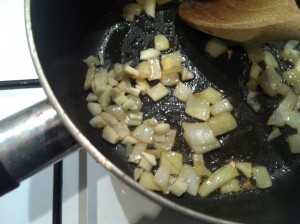 Next, add the cubed squash, stir around for a couple of minutes, then add a good splash per person of white wine. Let that reduce a little, then add the veg stock (it should just about cover the squash), add the nutmeg (to taste), bring to the boil, and simmer gently until the squash is soft. MEANWHILE
Start the water boiling for the tagliatelle, and about 5 minutes in chuck it in the water with a bit of salt. When the squash is soft and lovely, blend it with 1/3 of the chives, and return to the pan with the cream, stirring through. (NB. I later discovered it was better to blend with the cream and then heat through)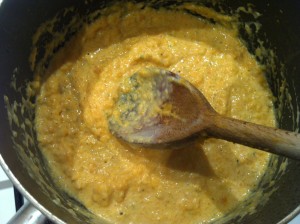 Once the sauce has warmed through, hopefully the pasta should be done, add it to the pan, with 2/3 of the pine nuts, and 1/3 of the chives. Mix together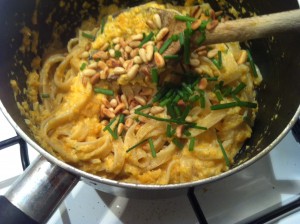 Then dole it onto plates, scattering the remaining chives and pine nuts over the top.
Doesn't look mega appetising, but it's warm and filling and tasty. So, y'know, whatevs.