1 tbsp oil for cooking
1 onion, chopped
2 garlic cloves, finely chopped
2 tbsp medium curry paste
1 cauliflower, broken into smallish florets
100g spinach (frozen or fresh)
200g chopped tomatoes (4 large fresh, or half a tin/carton)
handful chopped fresh coriander
100g rice or 2 naan to serve
Sometimes 'cheap' and 'quick' is tied joint first with 'tasty' and 'healthy' on your list of priorities. Especially if you have things like a family, or a 'career' in the arts. For those occasions, this recipe. 20 minutes including prep. Mainly if it takes you FIVE ACTUAL MINUTES to chop onion, garlic and break up a cauliflower. This is also one of those recipes that actual benefits from those weird (much cheaper) pellets of frozen spinach as opposed to the fresh stuff. Based on a Good Food recipe, I think. And vegan, like. You should also totes make your own curry paste. I hadn't thought about that but I should probably blog my recipe, huh? It's just puree'd garlic, ginger, onion, tomato mixed with spices and oil. Do that.
Prep time: 5 mins | Cook time: 15 mins | Serves: 2 (1 pictured)
Nutritional Info: 271 kcals, protein 12g, carbs 18.1g, fat 17.2 g, sat fat 1.4g, fibre 7.5g, salt 0.85 g
Ingredients pic: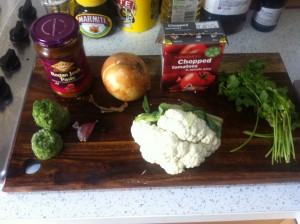 soften the onion and garlic for 3 minutes or so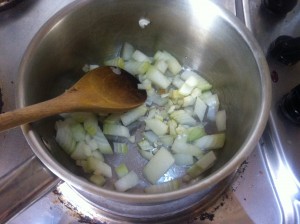 Add the curry paste, stir for 2-3mins until fragrant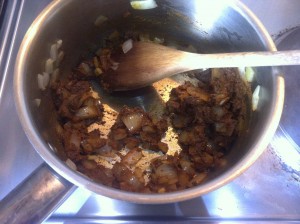 Add the cauliflower, stir to coat, then add the chopped tomatoes and water, stir to mix
Then cover, and cook for 10 minutes. Put the rice (50g per person, well rinsed, 120ml water per person, cover and DO NOT UNCOVER, heat until all the water has boiled away and then set aside, still covered, to steam until the rest is ready)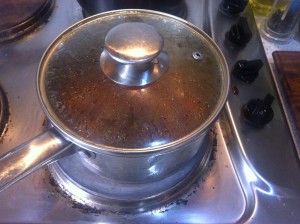 Then, when the cauliflower is cooked, or about 10 mins in, stir in the spinach, and just before serving, the chopped coriander:
Serve with rice, or a naan or pitta instead. Tasty, quick, cheap. Awesomeness.