2 tablespoons olive oil
½ tablespoon gluten free curry paste
175g leeks, sliced
300g parsnips, thinly sliced
175g cooking apples; peeled, cored and chopped roughly
2 tablespoons fresh coriander, chopped finely
1 litre gluten free vegetable stock
100ml soya cream
100ml white wine
2 eating apples, peeled, cored and chopped finely (skins on)
salt and freshly ground black pepper
OK, I'm not sure if 'adding balti paste' counts as 'currying' something, but the original recipe described this as 'spicy', which I definitely don't think it is. Warming, however, it definitely is. Probably better as an Autumn soup, but I got caught on my bike in a downpour and made this while both hungry and shivering, so it was basically the best thing ever, despite it being the height of this thing we're still insisting on calling a 'summer'… That's probably enough inverted commas for now. The original recipe was a Sainsbury's one *I think*, but it's not on their site to link to, now, so if it's from somewhere else, sorry for not crediting you. Replacing milk with soya cream in the recipe, so this'un's vegan.
Serves: 4-6 | Prep: 10 mins | Cook: 40-50 mins
Nutrition per portion (1/4): 151 cals, 8g fat, of which 1g saturated fat, 12g added sugar, 2g salt
Ingredients: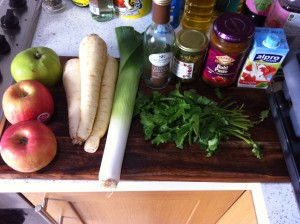 Pop the oil in a large pan, heat it then add the curry paste and fry until fragrant
Add all the veg. And the the cooking apple. Not the regular apples yet. Them's garnish. Stir well to coat the veg, and cook until softened, about 15 mins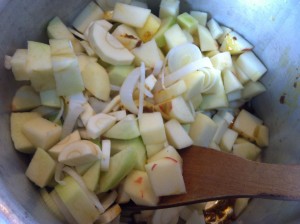 Then add the stock, wine, soya cream, and coriander. Bring to a simmer and cook for 20-30 mins or until the veg is very tender.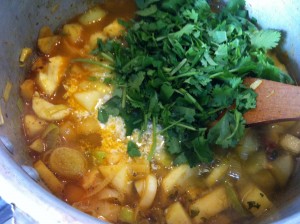 Blend. Season well.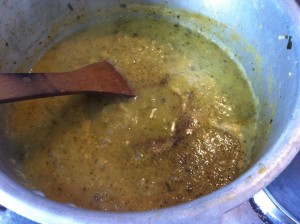 Serve! Garnish with chopped eating apple (not pictured, I forgot to picture that bit, and then I ate it) and a bit of coriander. Also, check out the vintage soup bowl my mum let me have. From the Actual Seventies.