300g watercress
3 tbsp butter
1 onion chopped
1 celery stick, chopped
100g rocket
1/2 tsp black pepper
300g peas
1.5l of veg stock
100g blue cheese
Soup! I'm a big fan of soups for lunch at the moment, something very satisfying about making a big load of soup at the beginning of the week, and then only having to bake the bread and have a lovely warm lunch throughout the week. This one is very spring-y and has a good kick to it. I recommend using a good strong blue cheese, and something that crumbles well. If you can have cheese in your fridge without devouring it before you actually cook with it, I'd add a bit on each day you serve the soup. But I am not that kind of person. So put it in today. Whatevs. Still tastes good. This is from the Easy Vegetarian One-Pot book I got recently. A good'un. Also recommended: the Butternut Squash and Sweet Potato Soup, which is vegan, and heartier.
Prep Time: 10 | Cook Time: 20 | Servings: 6 (x 350g-380g approx)
Nutritional Info: (per 1/6) 158 kcal, 7g carb, 11g fat, 9g protein
Ingredients!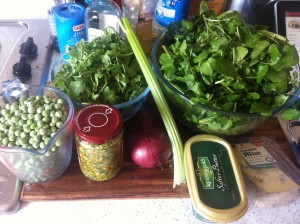 Prep the veg, roughly chop the watercress and put aside.
Melt the butter. Soften the onion and celery for 2-3 minutes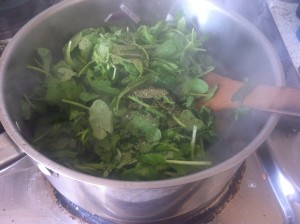 Add the watercress, rocket and pepper. Add the leafy stuff in batches if you only have a small pan. I also recommend not accidentally unscrewing your pepper mill and getting pepper corns everywhere and then having to pick them out. That would tend to increase the cooking time.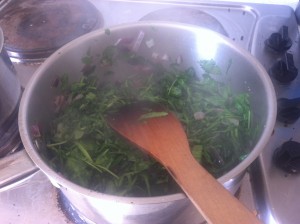 Stir fry until wilted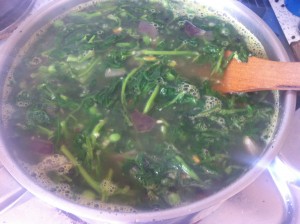 Add stock, peas and bring to the boil. Simmer for 10 minutes
Blend until smooth, I might, the next time, stir in 200ml or so of soya cream for a, well, creamier soup.
Crumble in the stilton just before serving.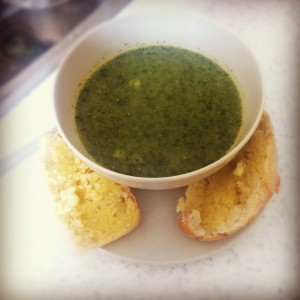 Serve! Really tasty, and very healthy, with a good kick. Use good strong stilton, and for a 'cream of' soup, add the aforementioned cream.
Nom nom.