1 tbsp olive oil
1 large onion finely chopped
2 tsp corander seeds, crushed (I used a pestle and mortar)
2 fresh red chillies, seeded and chopped
2 sweet potatoes, roughly chopped
2 tomatoes, peeled and diced
750g butternut squash peeled and chopped (approx 1)
1.7 litres veg stock
Large bunch of fresh coriander, chopped (not pictured as it was an afterthought)
Main modification to this was adding bloody loads of fresh coriander. Think it was a brill decision. The rest is pretty much as-is in the new Veggie Cookbook I have. Did I mention I have a new cook book? Expect lots of new recipes. This is another good one for a super healthy and filling lunch. Also reeeeally tasty. Butternut squash is my favourite of the vegetables, closely followed by sweet potato. BEST SOUP. Vegan, too. And with a nice bit of kick from the chillies (which I recently learnt I am not allergic to! Hurrah! Just regular peppers. For whatever reason)
Anyway. INFORMATION:
Prep Time: 20 | Cook Time: 35 | Servings: 10 at 300-350g per serving. This soup makes 3000g of soup. FYI. I weighed it.
Nutritional Info: 78 kcal, 2g fat (trace saturates), 14g carbs, 0.8mg salt (this is for 350g per serving according to the book, but this seems very low in terms of calories)
Ingredients: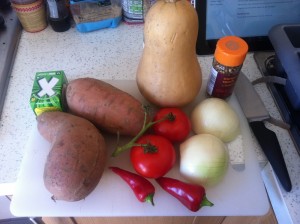 I like the wobbly potato.
WHAT DO I PUT WHERE?
Heat the oil in a large pan over a gentle heat and fry the onion for about 10 mins until soft.
Add the coriander seeds and chillies and cook for 1-2 mins
Add the squash, sweet potatoes and tomatoes and cook for 5 mins.
Add the stock, cover and bring to the boil. Simmer for 15 mins or until the veg is soft.
chop the coriander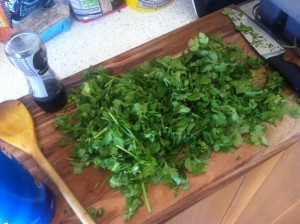 Puree the soup until smooth, season with salt and pepper. stir through the coriander, and serve with a sprinkling on top and some fresh bread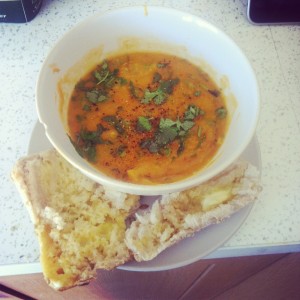 ohhh yeaaah.