85ml honey (I used orange blossom honey thinking it might be a nice accompaniment. Then I also forgot that ml is not the same as g. But used 85g x4 instead. Which I think made the mix less runny, I added a drop of water, a bit of golden syrup, and another egg in an attempt to get it to a better consistency, this didn't break the recipe, but you're probably best trying to actually follow the instructions before you follow the workaround)
115g dark brown sugar
30g butter
225g plain flour
1 tsp cinnamon
1/2 tsp ground ginger
1/4 tsp ground nutmeg
1/4 tsp bicarbonate of soda
1 egg, beaten
50g ground almonds
Icing sugar and water for icing (obvs) plus any colours you want.
I also recommend dipping these in spicy orange melted dark chocolate.
Hello recipe blog readers, and Merry Winterval! I'm pretty poor this holiday so the large majority of people getting presents from me are getting the home-made kind. I've done mini Christmas cakes before, and chocolate covered marzipan balls, but this year I was thinking about my grandma, who lived in Germany for a bit, and it occurred to me to try and make leberkuchen; a bit different, still spicy and nommy. So here we are. (Google+sainsbury's)xbaking=seasonal recipe blog. With a small 'fuck you David Cameron this is my country too and I can have morals and be a-religious and most of our most awesome traditions are pre-Judeo-Christian anyway' touch to finish: AND LO, SECULAR (pac man) LEBERKUCHEN ARE BORN.
We should all totally use 'and lo' way more often.
Based on
this recipe
from the Pink Whisk. I made 4 x the amount listed, which resulted in roughly… well, enough mix for 96 biscuits. THERE IS NO REASON ON EARTH YOU WILL NEED THAT MANY BISCUITS. Half of the mix is still in the fridge. Doubling these will be enough for 9-10 nicely wrapped gifts.
AND LO:
Ingredients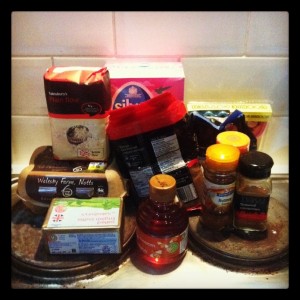 NB: I AM AWARE THAT THE COLOURS I USE FOR THE GHOSTS ARE NOT STRICTLY CANON, PLEASE DO NOT GET ANGRY, INTERNET. I AM NOT MADE OF FOOD COLOURING.
Step one, over a lowish heat, melt the sugar, butter and honey together
until (technical term) 'runny'
take that off the heat, and weigh out all your flour, spices and bicarb in one bowl (mix) and beat egg/s in another receptacle.
(check out my slippers)
mix in half the flour mix and half the egg to the runny sugary stuff, then mix in the remaining halves. If you've measured your honey properly it won't look like this:
Then you need to refrigerate it for about a day. Or if you've made it ridiculously stiff, probably only half. Longer is better, though I think, lets the spices permeate or whatevs.
Then roll out to about half a cm (or whatever your preferred biscuit thickness) on a heavily floured surface, cut with cutters or by hand, if it's still well sticky, the Pink Whisk recommends rolling between greaseproof paper.
Bake for 7-9 minutes (no longer, really) on greased paper, leave to cool for 5 minutes before putting on a rack. They'll then look roughly like this:
Leave them for 10 minutes or so before icing to your hearts content:
MERRY FUCKING CHRISTMAS.