2 tbsp olive oil
1 onion, chopped
2-3 garlic cloves, chopped
100g green bean sliced
400g drained chickpeas
6 ripe fresh tomatoes, halved
1 handful chopped fresh flat leaf parsley
100g wholemeal spaghetti broken into pieces
50g rocket
tsp or so of marmite
tbsp or so of tomato puree
1.5l veg stock
crusty bread to serve
I always thought minestrone was a meat-y taste, and I didn't have much hope for a veggie version (vegan, in fact), but, it turns out, TOTES WRONG. This was amazingly minestroney-y. Proper stuff. Might be to do with the marmite modification, but still, that brill mix of really substantial pasta and veg, protein from the chickpeas, and the slightly brothy watery stuff that is instant comfort-taste to me. highly recommend, this, and keeps throughout the week pretty well if you don't mind slightly swollen spaghetti.
Serves: 6 | Prep: 10 mins | Cook: 30 mins
Nutritional info: 227 kcal, 35g carbs, 7g fat, 8g protein
Ingredienty: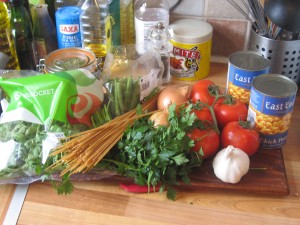 Prep: get the stock boiling. Chop the onion, cube the tomatoes, crush and chop the garlic, break up the spaghetti, drain the chick peas, chop up the beans into 1-2cm pieces.
Get a big pan, put the oil and onion in it. Soften the onion. I have illustrated this in case you are uncertain.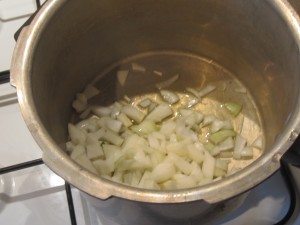 Add garlic. Fry for a couple of minutes more.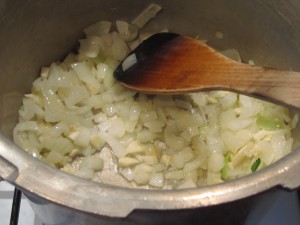 Add everything that isn't the rocket.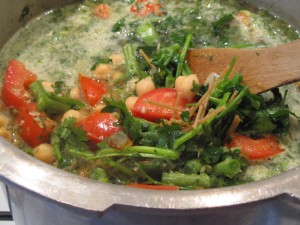 Bring to the boil, simmer for 15-20 minutes, until pasta is done.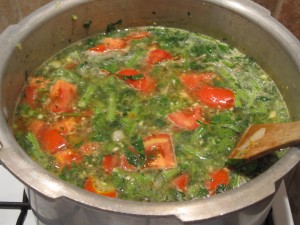 When the spaghetti is cooked, stir through the rocket. Season to taste. Serve.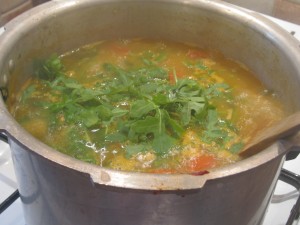 How easy?