200g red lentils
900ml veg stock
2 small or 1 large onions, finely chopped
2 large garlic cloves, crushed
4 large tomatoes, chopped
1 tsp tumeric
2 tsp garam masala
4 small red chillies or 2 large
2 large or 3 smaller sweet potatoes, cut into small cubes
4 large handfuls of fresh spinach
plenty of seasoning
1 small, or half a large lemon
optional: serve with naan, rice or chapati, but properly good on its own
This is the first dhal that I'm properly proud of, just that right mix of bite and real creaminess that you can't imagine is stil dairy-free. BUT IT IS. Imagine. Just. Imagine. Lentils are cheap, high in protein, filling, and ace, and the rest really livens the basic lentils + spices dhal mix. Originally a BBC Good Food recipe, but I've substantially changed the making process, and added garlic, and (if you ask me) the key ingredient of lemon juice. Seriously, taste it just before you add, and then as you add, try it and follow how much that simple little thing just lifts the flavour. I have no idea how it works but it just does. Yum. Let's go, dhal:
Prep: 10 mins | Cook: 35 mins | Serves: 4
Nutritional Info: 350 kcals, protein 16.4g, carbohydrate 68.5g, fat 3.1 g, saturated fat 0.3g, fibre 8.3g, salt 2.66 g
Ingredients pic: missing garlic and lemon, 1 too many potatoes, 1 too few tomatoes, and 2 two few chillies, because I made those changes as I went along:
First off (I've spared you the picture) pop 1 tsp of sunflower oil in a pan over a med-low heat and soften the onion, garlic, and chillies together for 5 minutes or so. Then add the chopped tomatoes, garam masala and tumeric, and fry over a medium high heat for a couple of minutes, to get it fragrant and stuff.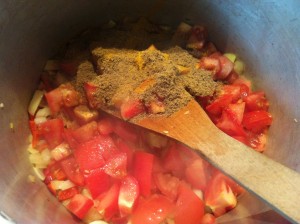 Then add the stock and lentils, bring to the boil and simmer for 10 minutes.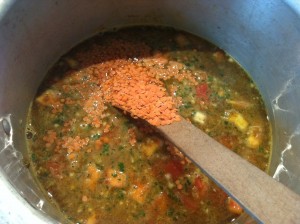 Then add the sweet potato chunks, simmer for 15 minutes or until tender (but not completely mushy)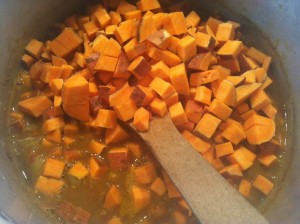 I decided to blend mine a bit, but only a bit, and I think this was a really good choice, leave some chunks, but just give it a whizz. A bit of mashing would work too, if you don't have a hand blender.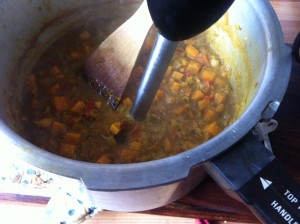 Then add the spinach, stir through until wilted.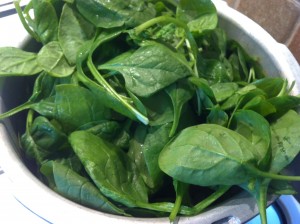 Season to fuck. Seriously. LOADS of salt. Taste it as you go, but that brings out the flavour. Then add the squeeze of half of or a whole lemon to taste.
And serve. Mmmm…