800g courgettes
a knob of butter
2 tablespoons rapeseed or olive oil
3 onions, halved and finely sliced
a few sprigs of thyme, leaves only
3 garlic cloves, finely chopped
200g quinoa
a good handful of flat-leaf parsley, roughly chopped
a squeeze of lemon juice
60g pine nuts, lightly toasted
sea salt and freshly ground black pepper
This is one of the River Cottage Veg Every Day recipes I recently typed up into my recipe app. A simple one, cheap if you have pine nuts in already. Quinoa is ace, by the way, really nutty, and satisfying texture, and JUST LOOK at how awesome it looks (pics at the bottom), the grain sort of separates into a heart and a curly outer bit and is really good looking. Is that a weird thing to say about food? Anyway, I reckon there must be a glut of courgettes out there because of all the rain, so grab some quinoa and give this a go. Seasonal and yummy. Vegan if you use a butter alternative.
Serves: 4 | Prep Time: 5 mins | Cook Time: 25-30 mins
Nutritional Info: 338kcal 26g carbs 22g fat 9g protein
Ingredients pic: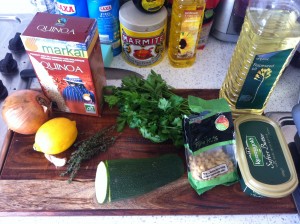 First off heat the butter and oil until the butter is melted. Then add in the chopped courgettes, onions, thyme, and a good amount of seasoning. Sautee for about 20 minutes
MEANWHILE. Rinse the Quinoa really well in cold water (anti gravity water pictured no required) then bring to the boil in a pan of water, and simmer. Cook both quinoa and veg for about 20 minutes.
About 5 minutes until both are done, add the garlic to the courgettes, and toast your pine nuts (in a dry pan over hot heat stirring quickly for about 1-2 mins)
When the quinoa is ready (tender but still firm… if you know what I mean. Al dente.) drain, then add to the courgette and onions with the parsley, a squeeze of lemon and season more if required.
Serve topped with the pine nuts. Very tasty, just the right amount for a hot lunch.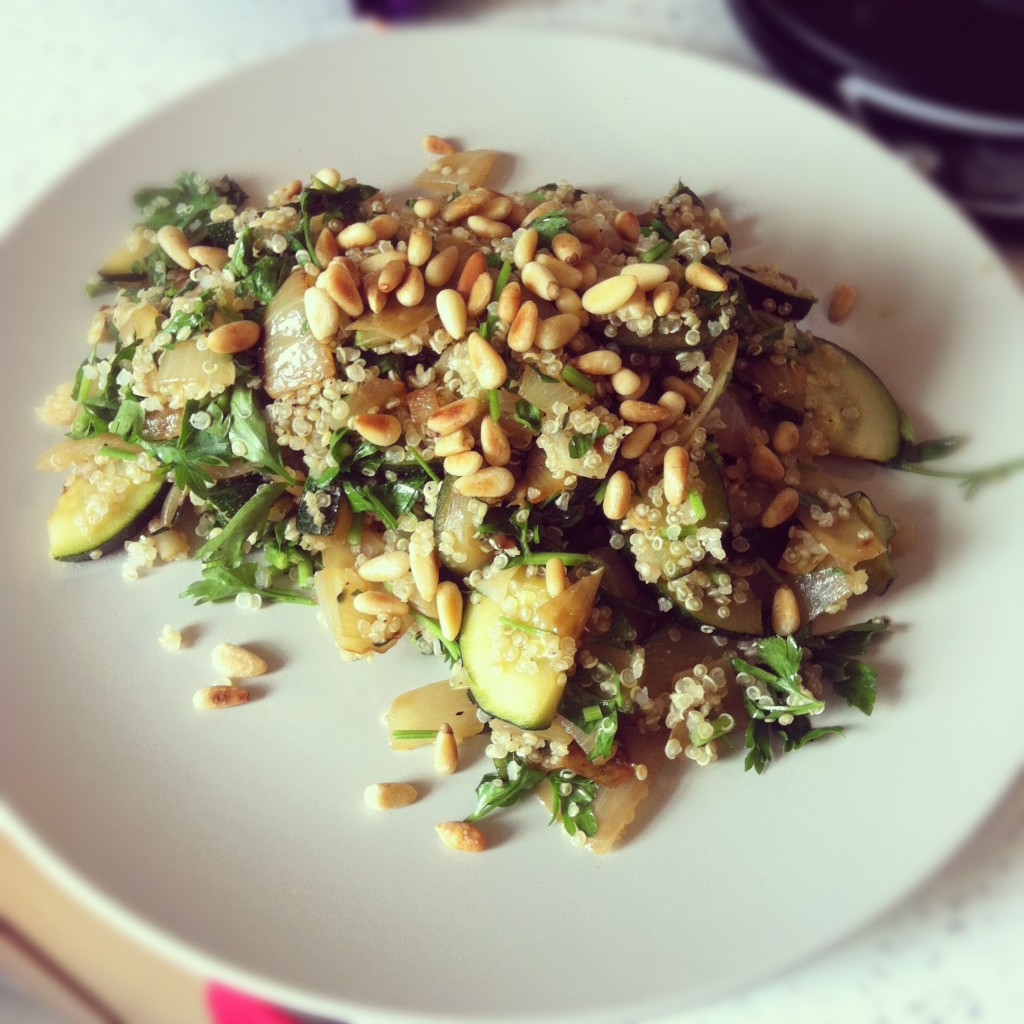 And pretty.