50g puy lentils
1/2 bay leaf
1/2 garlic clove, bashed
A few parsley stalks (optional)
1/2 tbsp extra-virgin olive oil
Sea salt and freshly ground black pepper
150g carrots
1/2 good handful flat-leaf parsley leaves
For the dressing
1 tbsp extra-virgin olive oil
1 tsp cider vinegar
½ tsp English mustard
½ clove garlic, peeled and finely grated
1/2 pinch sugar
Most of this recipe is marinating time, so it's a good one to make for a packup (that's my silly lincolnshire word for 'a packed lunch', I didn't realise it was silly until I said it in London. NOW I KNOW. Thanks, Southerners), or just generally the night before. Totally vegan, and surprisingly filling (well, to me, I always expect salad to be light), but I think I'd do a 1.5 portion for a full lunch, or maybe stuff this into a toasted pitta? That would be ace. This is based on a Hugh F-W recipe from the Guardian Blog, I think. Too tired and short of time to google, sure you can find him if you want.
Prep Time: 10 mins | Cook Time: 40 mins | Servings: 2
Nutritional Info: 229 kcal, 25g carbs, 11g fat, 7g protein
 Ingredients: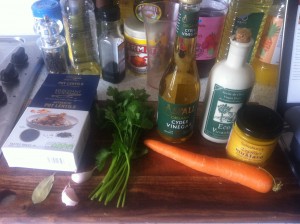 First off bring the lentils to a boil, then drain them, then put them back in the pan, cover with water again, and add parsley stalks garlic and bay leaf. Simmer for about 25 minutes until tender. I don't know why you do those two bits separately. It's probably like an uber-rinse.
Meanwhile mix all of the dressing ingredients together in a container, that's the olive oil, grate garlic, cyder vinegar, mustard and a half pinch of sugar, whisk with a fork.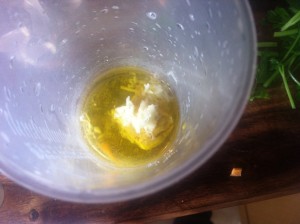 Grate your carrot, and when the lentils are cooked, drain them, remove the bay leaf garlic and stalks, rinse with cold water, and  tip them into a container with the carrots. Add the dressing, season well, and leave to marinade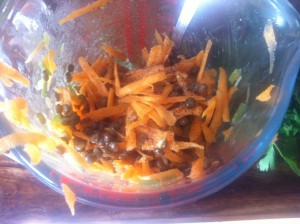 After 20-30 minutes, longer if you have patience (I don't) stir through the chopped parsley and serve.