250g rice noodles, cooked, at room temperature
1 tablespoon oil
1/2 tsp sesame oil
1 1/2 tbsp grated fresh ginger
1/2 onion thinly sliced
100g shiitake mushrooms
100g baby corn
250g chinese broccoli, sliced
100g mangetout
1 1/2 tbsp sweet chilli sauce
2 tbsp soy sauce
1 tbsp lime juice
8 thai basil leaves
You can't really fault student cookbooks for fast cheap food. The Ultimate Vegetarian Student Cookbook is a good'un, recommended. You don't get fancy pictures or owt, but I'm sure you have a lovely imagination. I managed. I didn't, however, manage to realise when dividing the ingredients to make for one that it's a 'serves 2' not '4' as standard (I normally put serves 2 up here, but they don't normally come like that), anyway, long and the short of it is that this is a more substantial meal than pictured. About twice as substantial. Roughly.
Prep Time: 10 | Cook Time: 25 | Servings: 2
Nutritional Info: 442 kcal, 66g carbs, 56g fat, 12g protein
 Ingredients: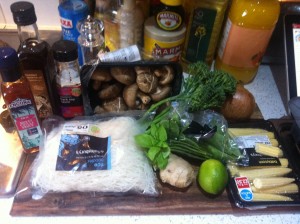 Prep everything, cook the noodles if they're not fancy pre-cooked lazy ones. I didn't know what chinese broccoli looked like so didn't find any in sainsbury's, so used tenderstem brocolli halved or quartered lengthways if thick, and then halved sideways. Or whatever that way is called. The brown stuff pictured is the tasty tasty sauce.
Heat the oils, and fry the onion and ginger until soft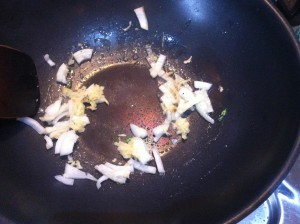 Add the veg and stir fry until tender
Add the rice noodles, then the sauce mix, stir well
Add the thai basil, or if you're rubbish like me and didn't have time to visit an asian supermarket, regular basil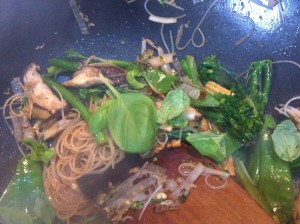 Serve! (Please use that lovely imagination to double the below pictured portion)