500 g butternut squash, deseeded and cubed
1 tablespoons olive oil
2 garlic cloves
2 teaspoon ground cumin
2 tsp ground coriander
1/2 tsp of chilli powder (or more to taste)
salt and pepper
300g drained chickpeas
1/2 teaspoon bicarb of soda
1 small bunch parsley, chopped finely
1 small bunch coriander, chopped finely
1 cucumber, grated
300g soya yogurt
1 tablespoon lemon juice
4 wholemeal pitta
cucumber and tomatoes and rocket to serve
I'm a pretty big fan of this basic falafel recipe for quick and uber tasty falafel-based lunch goodness, but do like to change things around now and then so thought I might branch out to a butternut squash recipe. These are also slightly healthier because there's an alternative dip to slathering them in guacamole (which I am wont to do) and they're baked, not fried, making them less greasy. Still vegan, too. These keep really well in the fridge, so to get around the long cooking time (for lunch, relatively speaking) of the butternut squash, make a big batch at the beginning of the week, roll them into balls, and bake 4 at a time straight out of the frige. Be careful with the spice if you do this, though, they will mature!
Based on this recipe, but variously un-complicated for my laziness.
Prep Time: 35 | Cook Time: 20 | Servings: 4 (4 falafel per serving, 16 total)
Nutritional info: falafel and yoghurt: 248 kcal, 27g carbs, 10g fat, 10g protein. For adding pitta and salad (rocket, 1 tomato, cucumber) add 175kcal.
Ingredients: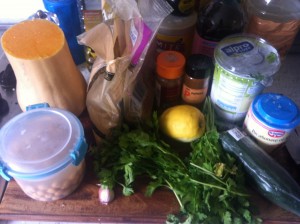 First off, set the oven to 200'c, cube the butternut squash, and shake them up in a roasting pan with the oil, 1 tsp ground coriander, 1 tsp cumin, the cinnamon, salt and pepper. Roast for 35-40 mins until lovely and smooshy.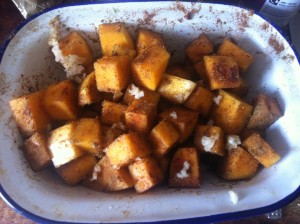 meanwhile, pop the chickpeas, remaining ground coriander and cumin, bicarb of soda, fresh parsley, fresh coriander and chilli powder to taste (1 tsp as a basic level) in a bowl.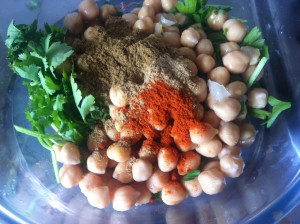 blend this until smooshy. Add a touch of water or oil if it's too stiff.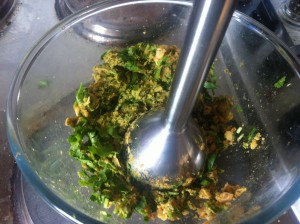 Then, while still waiting for the squash, make the yoghurt dip by combining the grated cucumber, squeeze of lemon, yoghurt and salt and pepper to taste, mixing well, and popping back in the fridge to remain nice and cool.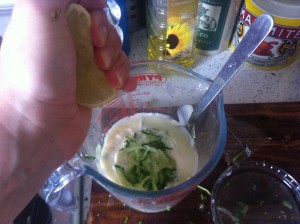 when the butternut squash are finally done, add this to the chickpeas herbs and spice blend, and blend some more, until you have a lovely falafelly dough.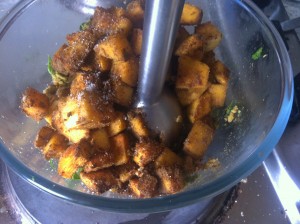 Form into 16 small balls (4 per serving) and bake in the oven for 15-20 minutes until well browned. Put any you want to use later into the fridge to keep.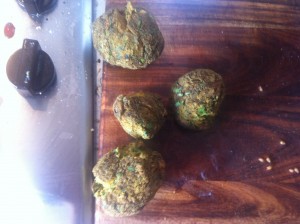 Serve in toasted pitta with a salad and the dressing. Voila, etc: