1 onion, chopped
1 carrot, chopped
2 sticks celery , chopped
1/2 tbsp olive oil
1 tbsp sugar
2 garlic cloves , crushed
1 tbsp tomato purée
1bay leaves
few sprigs thyme
1.5 courgettes , chopped
200g can butter beans , drained
200g can chopped tomatoes
600ml vegetable stock
50g Parmesan or vegetarian equivalent, grated
70g small pasta shapes
small bunch basil , shredded
2 pinches of chilli flakes, or amount to taste
You may have noticed I'm a big fan of soup. When cooking for one they're an ace way of making lunch really quick – make on batch at the beginning of the week, and just heat up and bake a part-baked bit of bread if you like and you have ace healthy food in a matter of 10 minutes, also totally freezable, and most soups get tastier with a bit of time, WHAT'S NOT TO LIKE? May not be everyone's cup of tea in hot weather, but I'm favouring tomatoey and zingy flavours at the moment and I definitely reckon that makes them still feel refreshing. Also I'm working 7am-10pm days, and running or swimming 16/5k respectively each day. When it gets to lunch I am HUNGRY, this is packed with veg, pasta, and beans, filling as fuck. Brilliant stuff. Based pretty faithfully on a Good Food recipe, but with a couple of pinches of chilli flakes because I wanted to give it a bit more kick. Vegan if you forgo the cheese and find rice pasta mini shapes (you could always break up big pasta into bits).
Prep Time: 15 mins | Cook Time: 30 mins | Servings: 4
Nutritional Info: 215 kcalories, protein 11g, carbohydrate 30g, fat 6 g, saturated fat 3g, fibre 5g, sugar 12g, salt 1.06 g
Ingredients: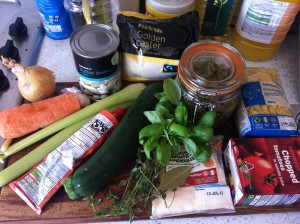 first things, chop all the veg. Pop 1tbsp of oil in a large pan and over a medium heat gentle cook the carrots, onions and celery until soft, about 15 minutes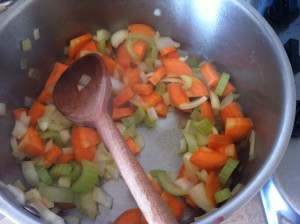 Next, add the sugar, garlic, tomato purée, herbs (saving a bit of the basil to garnish with) and courgettes and cook for 4-5 mins on a slightly higher heat, so the courgettes might brown a little bit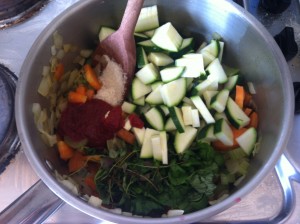 Then pour over the tomatoes, stock, and beans, simmer for 15 minutes until all the veg is lovely and soft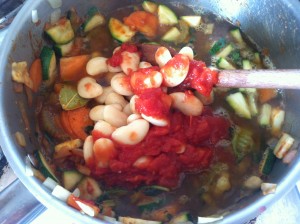 It was at this point I seasoned it, tasted it, and decided it needed a bit more kick, I added two pinches of chilli flakes, which was good for me, this is up to you, add or don't add to taste.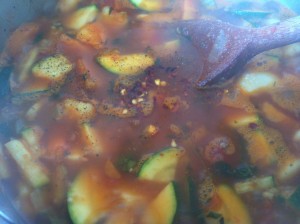 Add half the parmesan, the pasta, and simmer for 5-8 minutes more, until the pasta is cooked.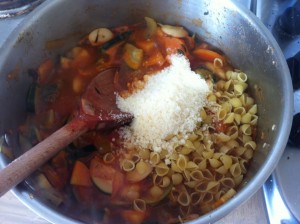 Serve sprinkled with 1/4 the remaining parmesan per person, and a bit of the chopped basil.