225g butter
225g caster sugar
4 eggs
225 self-raising flour
1 large orange zest of
200g raspberries
2 tbsp orange juice
1 heaped tbsp caster sugar
150g butter
250g icing sugar
1 orange juice of
1 large orange zest of
It's my lovely friend Andy's birthday tomorrow. He is lovely, and thus I decided to make him a lovely cake. I could buy him something but he's in his final year of training to be a doctor, so he'll be hired by Virigin Health or whoever's running the health service by then and be Well Rich, so really, anything I buy him will pale into comparison to the gadgets he's too overworked to use that will fill his giant bachelor pad. Nothing but the best imaginary futures for my friends, you see. Anyway, I made him a cake. It's covered in white royal icing right now ready to have the CD art from a favourite album of his painted on in food colouring (you can paint like with acrylics if you mix gel colourings with vodka instead of water [it evaporates and dries quicker]), but I can't do that until Friday (the day of his party) so for now, the cake itself. Something a little different than your standard victoria sponge, which is why I thought it worth sharing.
Prep Time: Less than 30 mins | Cook Time: 10 to 30 mins | Servings: 16
Nutritional Info: per 16th of the cake: 344 kcal, 36g carbs, 21g fat, 3g protein.
Ingredients: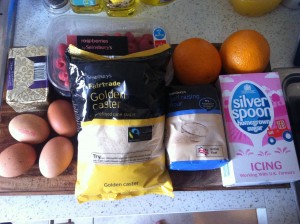 Preheat your oven to 180'c, and grease and line two 20cm/smallish sandwich tins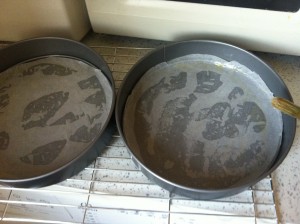 cream together the butter and the sugar. The original recipe suggests you do this with a food mixer but if you're a PROPER PERSON you'll do with with elbow grease. It's good exercise. Go on.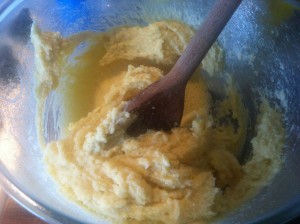 Add the eggs and beat together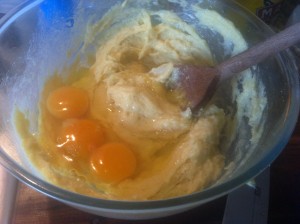 then add the flour and orange zest and mix until they're all well combined
Split the mix equally between the two sandwich tins, spread out so it's even, and pop in the oven for 25-30 minutes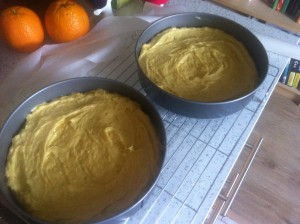 While this is happening, make the filling, for the jam, pop the rasberries, 2 tbsp of orange (don't be tempted to add more, there's juice in the rasberries too) and sugar into a pan and heat it really gently for 20 minutes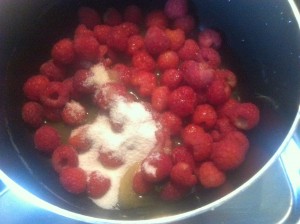 When the rasberries are all broken down, take it off the heat and allow it to cool. This is basically jam.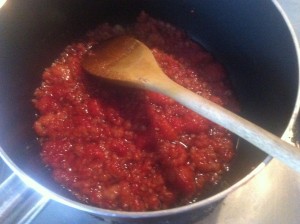 I don't appear to have a picture of the butter icing, but pop the icing sugar and butter in a bowl, beat together and grate in the orange zest, and add juice until it loosens, but not too much. Should be nice and fresh tasting. DO NOT EAT IT ALL.
When the cake is ready (something sharp poked in it comes out clean, not with cake mix on it) take them out of the oven, leave to cool in their tins for a bit.
Turn them out and cool completely, COMPLETELY on the wire rack.
cover one with the icing, and the other with the jam, because you let them cool completely the butter icing now does not proceed to melt everywhere. Well done.
Put them together, and if you're presenting as-is, pop some icing sugar dusting over the top. If covering with royal icing, brush the tops and sides with another bit of jam, roll out the icing, lay over the top of the cake, cover, press it all down, and cut away the excess. If decorating with colouring, leave it for a day to dry before mixing gel colours with vodka to apply pretty painting.
Pre-iced cake: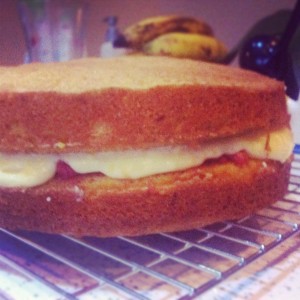 Happy birthday, Andy.