90g good quality dark chocolate
60g shredded coconut
30g butter
30g sugar (light brown muscavado, ideally)
30g honey
40g brazil nuts, broken into small pieces
55g sultanas
55g rice crispies
30g dried cranberries
30g macadamia nuts, broken into small pieces
So, I have a problem. An addiction, in fact. Whenever I find myself in a train station or passing a Julian Graves or similar I have this compulsion to buy an Eat Natural Cranberry, Macadamia Nut, and Dark Chocolate snack bar. At 99p a pop this is a habit that I simply can no longer maintain. And then it occurred to me; bake my own! So I went through the back of the packet with a calculator, and with a bar weight of 45g, worked out the proportions of ingredients where they were listed, and then used the proportional placing of each un-percentaged ingredient, and some previous experience of baking snack bars to make and perfect the FOLLOWING RECIPE. This is like science. Awesome, tasty, science. It's completely gluten free, if that's a thing for you, and is vegan if you use soya spread instead of butter and replace the honey with golden syrup. Here we go:
Makes 10 x 45g bars | Prep time: 15 minutes | Cook time: 25-30 minutes
Nutritional info per 45g bar; 218 kcal, 23g carbs, 13g fat, 2g protein
Ingredients: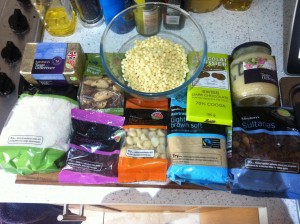 Preheat the oven to 160'c. Mix the nuts, berries, coconut and rice crispies in a bowl together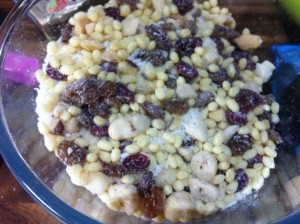 melt the butter, honey and sugar together over a low heat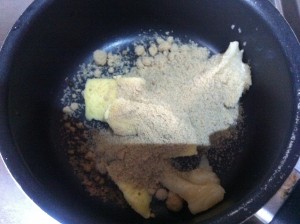 combine the ingredients, until well mixed, then press down firmly into a greased baking tin
bake for 25-30 mins until golden brown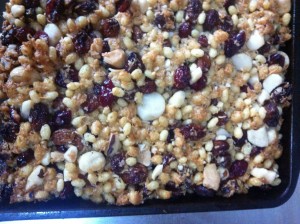 Allow it to cool before cutting up and removing from the tin. Press together if a little fragile (they will take a while to set)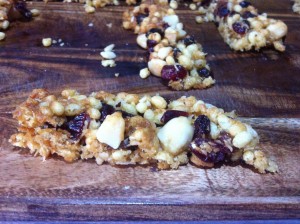 Melt the chocolate, turn the bars over to the flat side (I didn't do this but it makes more sense), and spoon the chocolate over, leaving to set. Or do something more arty. Whatever you like, really.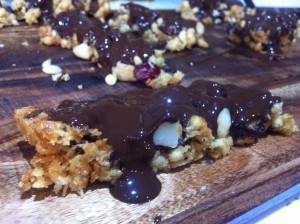 Allow the chocolate to cool & set. Wrap each one in tin foil for eating on the move. Donenomnom. View of both sides: