25g butter
1/2 onion , finely chopped
150g frozen or cooked fresh peas
850ml hot vegetable stock
175g risotto rice
100ml white wine
12 1/2g Parmesan (vegetarian), grated
1 good handful pea shoots (decadent, I know, but proper tasty)
100g brie, chopped up
extra-virgin olive oil, to drizzle (optional)
Operating on what I think is a pretty sound 'rhyming foodstuffs' principle, I took the pea risotto recipe from the BBC GoodFood site, and added… brie! And it was lovely. So here's the recipe. I should add that this rhyming foodstuff theory hasn't been exhaustively tested. Or at all, really. Mind you, in trying to think of bad rhyming combinations of foodstuffs, I actually thought of loads of good ones. Bad ones probably exist though.
Anyway. This recipe is tasty, easy, and pretty filling. Go go picture recipe!
Prep Time: 5 mins | Cook Time: 40 mins | Servings: 2 | nutritional info: 423 kcals, 25g protein, 17g carbohydrate, 27 g fat.
Ingredients picture: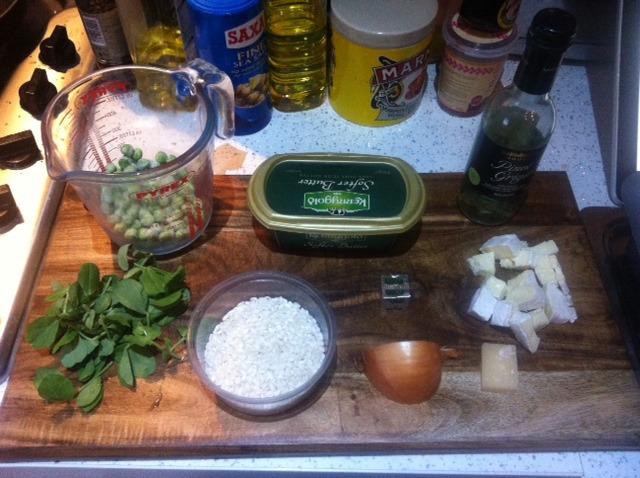 Puttings together: Melt the butter in a large pan, add the onion and gently heat for about 10 mins until really soft.
Meanwhile, put a third (50g if serving 2) of the peas into a food processor with a ladleful of stock and whizz until completely pureed
Stir the rice into the onion, increase heat to medium and sizzle the rice for 1 min.
Pour in the wine, then bubble and stir until completely absorbed.
Continue cooking like this, adding a ladleful of stock at a time, and stirring continuously until the rice is tender and has a good creamy consistency – about 20-30 mins. When it's tender, stir in the puréed peas, remaining peas, (vegetarian) Parmesan, brie, and some seasoning
Stir until the cheese is all melty and awesome. Give the risotto a final stir, spoon onto plates and top with some pea shoots and a drizzle of olive oil, then a last twist or two of black pepper. Mmm…