500g pack ready-to-use puff pastry
1 tbsp butter
1 tbsp sunflower oil
450g small leeks, sliced
3 tsp low fat creme fraiche
2 tsp Dijon mustard
1 tsp chopped fresh thyme
1/2 tsp freshly grated nutmeg
1 egg yolk mixed with 1 tbsp water
Salt & pepper
So, this is a guest post from the brilliant Hilary Foster (yes, I'm biased) – my only contribution to this was to eat it. Which I did extremely well. Anyway, over to Hilary:
Hallooo! I've been itching to guest post this pie, because pies are excellent things for those slightly challenged in the fine motor skills and presentation departments, as I am (and as you'll see from the photographs). I've been making it for around 10 years now and it's never let me down (if you don't count the times I burnt or dropped it), and several meat-devouring mates have asked for the recipe. And I know it wasn't out of politeness because they then made it themselves. And my mates aren't that polite. It was originally from a Tesco Vegetarian magazine, but I've tweaked a bit.
Anyway, that pie…
Obligatory pack shot (the greenfly got our thyme so I'm using dried here).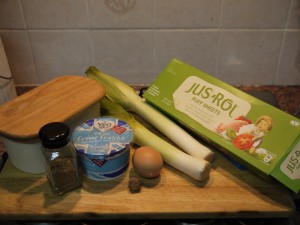 Preheat the oven to 220˚C/425˚F/Gas Mark 7. Divide the pastry into two and roll into 25cm circles. Actually, just roll it to what feels the right thickness and then cut round a large plate – it'll be fine. Prick with a fork and chill. (You'll notice below I have pastry rectangles: apologies, the shop only had pre-rolled last week. Circles look better).
Heat the butter and oil in a pan until it bubbles. Add the leeks and cook gently for 3-5 minutes, until they look softened but haven't coloured.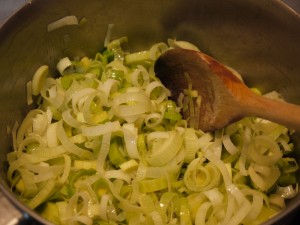 Mix the creme fraiche, mustard, thyme and  nutmeg together. Season and add to the leeks. And FYI – a teaspoon of nutmeg takes about 5 minutes and slightly sore fingers to achieve.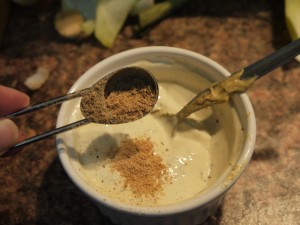 Place the mixture in a dome shape on one pastry circle, leaving 3cm of space around the edge. (Again, looks way better with circles).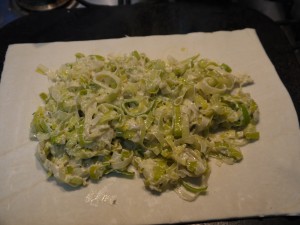 Brush the edges with water. Top with the other pastry circle (it doesn't look like it'll be big enough, but the heat of the leeks makes it stretch pleasingly), lightly press together, and make small vertical cuts around the edge with a very sharp edge (so as not to drag the pastry).  This helps the pie to rise more evenly.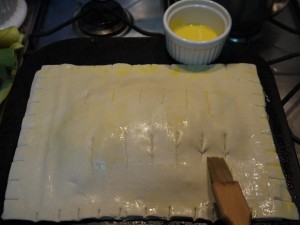 Then make scores across the top of the pie in whatever pattern takes your fancy. Just don't go mad or it'll shrink or break. Finish by brushing with the beaten egg.
Cook in the middle of the oven for 30 to 35 minutes. I always check after 20 as we have an insanely fierce oven and I sometimes put foil over it for the last 10 minutes to stop the pastry singeing.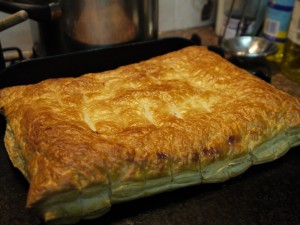 Serve with fresh veg of your choice and new potatoes smothered in butter and pepper.
And to drink?  I dunno, ask Alex. I've been pregnant or breastfeeding for the last 7 years, so I generally wash it down with a cup of decaf tea. [I always think a red Portuguese Alentejo works very well with this – Alex]
Variations: You can make the filling with just about any veg that goes with creme fraiche: mushrooms work particularly well but sweet root vegetables and others in the onion family are good too.
Footnote: this pie is pretty good the day after, cold or reheated.  Nice change from butties.