2 small carrots (or 1 large one...)
1 small courgette
40g French beans
1 small leek / or several baby leeks
about 10 / 12 baby plum or cherry tomatoes
60g peas (frozen or fresh)
1 handful fresh flat-leaf parsley
20g butter (or vegan equivalent)
a sprinkle of granulated / demerara sugar
salt & pepper
pasta for two (about 180g)
parmesan
Another favourite from the Pasta Cooking book from the remaindered bookshop…it's called a sauce, but the moisture just comes from the oil, butter and tomatoes. And all the vegetables aren't green. But they are vegetables.
Hannah's Nutritional Info edit: (using wholewheat pasta) 462kcal, 75g carbs, 12g fat, 17g protein. If adding parmesan, a 30g serving adds 120 kcal, 0g carbs, 9g of fat, and 10g of protein.
Here's what you need: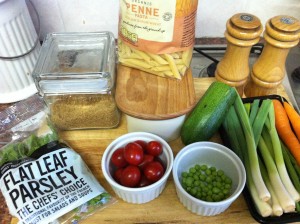 The proportions can obviously vary, and actually you can miss some stuff out – or include seasonal variations. The leeks are important for the overall flavour, though, I think.
Chop everything: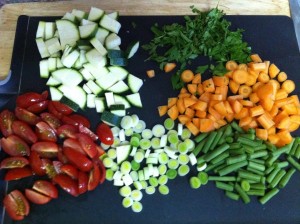 Add the butter and oil to a large (non-stick if you can) pan, and warm over a medium heat. When it starts to sizzle…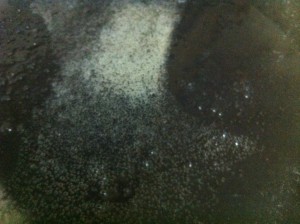 …add the courgette and carrot and sprinkle with a pinch (just a pinch!) of sugar. Fry for 5 minutes, stirring occasionally.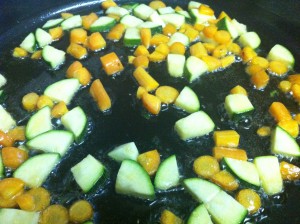 Add the peans, beans and leeks (thanks for comment Edith!), salt and pepper, and then cover. Cook for another five minutes. Get the pasta on! (In a separate pan.)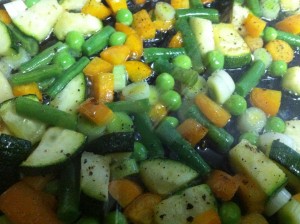 Add the tomatoes and chopped parsley. Cook for another five minutes.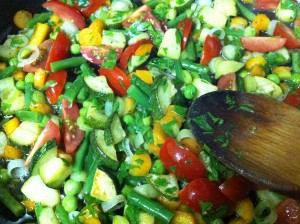 (On this particular occasion I overcooked this last stage and the tomatoes fell apart a bit more than I like – making the whole dish no less tasty, but a bit less photogenic. Pfft.)
When the pasta is done, drain and tip into the pan with the sauce. Stir: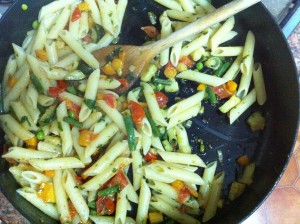 Serve in warmed bowls, with shaved parmesan and a sprig of parsley (if you like).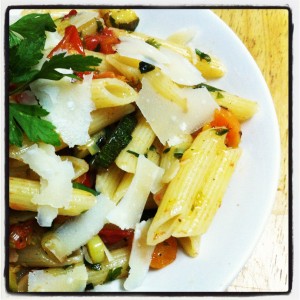 Ideal with a fruity/medium Portuguese red, preferably an Alentejo.