Oil
1 red chilli
2-3 tsp cumin seeds
1 tsp turmeric
1 big (2 small) onion(s)
2 cloves garlic
250g (ish) potatoes, cut into 1" cubes
200g (ish) of spinach
salt & pepper
This is one of those recipes that my mum can rustle up whilst apparently doing six other jobs and it's always fantastic. When I make it it seems to take a little bit more attention than the way she does it, so I asked her for her recipe and she said stuff like "potatoes for two" and "however much spinach you have at the moment" and I know she doesn't measure spices… I think we can say that some improvisation is allowed (encouraged). So here's how I made it most recently, with a couple of alternatives included.
This is for two as a main, with naan bread and yoghurt (it's vegan up to that point), but you could easily combine it with other curry dishes, like any of these.
HANNAH EDIT: Nutritional Info: (if you want it) 428 kcal 50g carbs 22g fat 9g protein, or 366kcal 50g carbs 16g fat 9g protein with 1 less tbsp of oil
Here's what you'll need: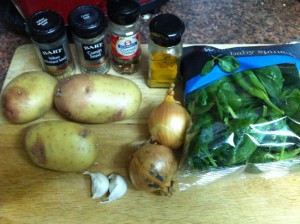 Chop the potatoes into "cubes", no bigger than 1 inch. Steam them for 12 – 15 minutes – until almost cooked. [Or, if you're my mum, don't].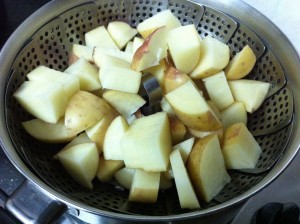 Chop the onion, peel and crush the garlic. Chop the chilli. Put 3 tbsp of oil in a large pan over a medium heat. Add the turmeric and cumin seeds and stir. After a minute add the chilli, the onion and garlic. Be careful not let the ingredients stick or burn. After five minutes, add the potatoes. Stir 'round for a minute or two. Add a couple of tbsp of water and cover, turn the heat down.
[Variations: for a milder dish just add the chilli to the pan whole; sometimes I add mustard seeds, too; some versions add 1 tsp of garam masala here, too; my mum doesn't steam the potatoes in advance, she adds the raw, and then adds a cup of water or stock and simmers rather than fries it all].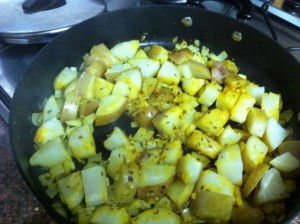 Keep your eye on it, and add a bit more water if you need to.
Wash the spinach and put in to a pan still wet. Put pan on a low heat to steam the spinach in its own water for 5 – 8 minutes. It will reduce quite quickly.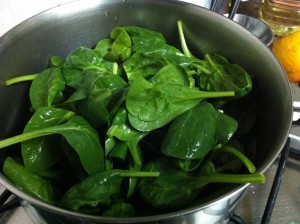 When the potatoes look like this…
…add the spinach. Stir in and cook together for a minute or two. Add a couple of twists of salt and pepper.
[I suspect my mum doesn't bother with that washing and steaming nonsense and just whacks the spinach in with the potatoes, onions and stock after about 10 minutes; if you're cooking with a whole chilli, take it out now.]
Put it on a plate.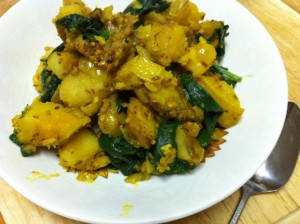 Serve with indian breads, yoghurt, other curries, as you see fit.
As it is spicy, you need a medium-to-full bodied red wine to go with it, preferably a Portuguese Alentejo.