250 g leeks, sliced
200g fennel, chopped
200g carrot, well scrubbed and chopped
250g celeriac peeled and chopped
50g sun-dried tomatoes
3 medium garlic cloves
250g sea salt
100g flat-leaf parsley, loosely chopped
100g coriander, loosely chopped
So, like most people who do a lot of homemade cooking, I use an awful amount of stock. Risotto, curries, couscous, that kind of thing, I'm basically buying a thing of stock cubes every supermarket visit. Not that it's too expensive for me, but I spotted this recipe in my new River Cottage Preserves book, and really liked the idea of just making my own. This made enough for one large and 3 smaller jars of the stuff, it keeps in a dark cool place for up to 6 months (it's preserved by the fucktonne of salt that you put in) and it 2 tsp stirs into 500ml of hot water to make ace veggie stock! Refrigerate open jars, and bob's your uncle! (Funfact: I do actually have an uncle bob).
Prep Time: 30-40 min (mainly because I had to blend in batches because I don't have a Grown Up Blender| Servings: makes 3 x 340g jars
Ingredients: you can add other good stock-y vegetables, most things, really, this is just the book recipe + a bit of celery.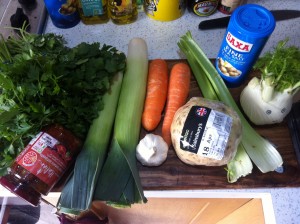 Basically, chop everything into blendable sizes.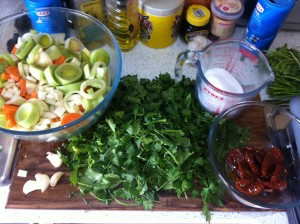 Blend it.
No really, it's as simple as that. If you're doing it in batches just add in a bit of everything, blend, decant into a big bowl, and repeat, then stir the final amount together before decanting. Et voila!