425ml veg stock
90g quick cook polenta
50g quark
65g pesto
50g baby corn halved lengthways
50g baby carrots
50g mange tout
50g peas
1/2 lemon zest
1 tbsp fresh parsley chopped
1 small garlic clove, finely chopped
So it turns out Quark isn't just a category of sub-atomic particle, it's a kind of curd cheese of German origin. WHO KNEW. The people from the GoodFood 101 veggie dishes book, that's who. This is the closest there is to instant homemade food, takes 15 minutes, TOPS, it's stupidly healthy, and you get to use something called 'quark', everybody's a winner. I imagine you could veganise this with some vegan pesto, and using vegan-friendly soft cheese replacement or natural soya yogurt in place of the quark. It doesn't have the richness of flavour of a dish you might cook for longer, but as a quick-hit fresh spring supper, (I'm saying supper like I'm a Tory or something), it's just what you need.
Prep Time: 5 mins | Cook Time: 10 mins | Servings: 2
Nutrition: 394 kcal, 15g protein, 40g carbs, 21g fat, 3g sat, 4g fibre, 1.27g salt
Here goes: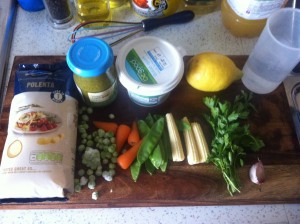 First up prep the veg, and chop the garlic and parsley. combine the garlic parsley and lemon zest now, you'll struggle for time later!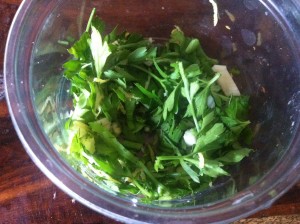 next set two pans on to boil, one with stock (below is my homemade stock mix getting to work) and one of boiling water for either boiling or steaming the veg (I don't have a steaming thing, so I boiled, think steaming is probably better, though)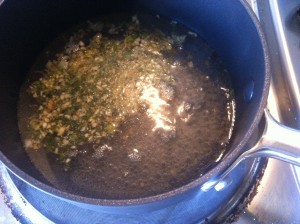 Once the stock is boiling, pour in the polenta, turn down the heat, and whisk until stiff, then add the quark, whisking continuously
At the same time start the veg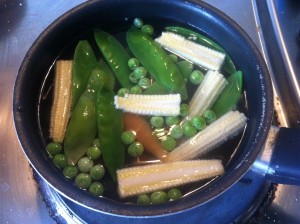 After 5 minutes, whisk the pesto into the polenta and season well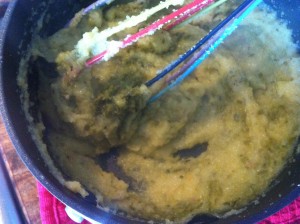 Spoon it onto a plate, drain the veg, sprinkle them with the parsely/garlic/lemon mix and toss to combine, pop the veg/parsley mix on top of the polenta, grind a bit of black pepper over the top and drizzle a bit of olive oil. Serve!