1 small onion, sliced
300ml veg stock
300g mixed mushrooms, chopped
2 garlic clove, crushed
2 tsp wholegrain mustard
1 tsp tomato puree
2 tbsp half fat creme fraiche
chopped fresh parsley to serve
This recipe is so quick it's almost stressful. But then you have awesome tasty food, so that makes up for it. My first attempt at a mushroom stroganoff. I have yet to be able to spell the word 'stroganoff' correctly on first type. Autocorrect 1, Hannah 0. Anyway, I don't know about meaty stroganoff, never had any when I was a meat eater (what did I do with those 25 years, huh?), so I don't know how this rivals for people who like that dish, but as a primae-strongonoffer, I can confidently say it was WELL tasty. And quick. Which I already said. Simple, and makes a brill dinner with rice and french beans. I like the mustardy taste, and might even add a little more next time. Using the stock I made the other day, by the way. Used that twice and both times lovely results. Check it out.
I haven't tried this recipe with soya cream instead of creme fraiche, but I might try that tomorrow to see if it's easily veganised. Will edit if I remember.
Prep Time: 5 | Cook Time: 10 | Servings: 2
Nutritional Info: (stroganoff only) 120 kcal, 11g carbs, 7g fat, 5g protein, or (with 50g dry weight rice and 100g french beans) 317kcal, 53g carbs, 8g fat, 11g protein
Ingredients!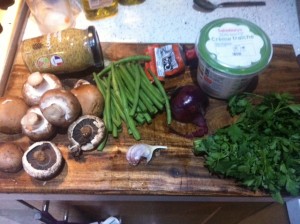 HOW TO MAKE:
If serving with rice and beans, set off the rice now, and put the bean water on to heat up.
Cook the onion in a covered pan with 3 tbsp of the stock for 4 mins until softened.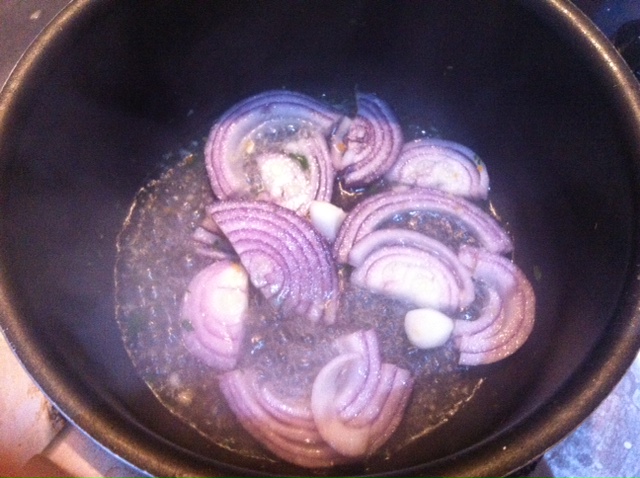 Stir in the mushrooms, garlic and seasoning, then add the remaining stock, mustard and tomato puree.
Cook for 2 mins covered, then uncover and reduce for 2 mins more. Chuck the beans in to your boiling water. Stir in the creme fraiche and parsley and serve as soon as possible on a bed of rice with those green beans.
mmmm. hipster vision.