50g walnut halves
225g of broccoli
1.5 tbsps light olive oil
2 garlic cloves, thinly sliced
a handful of fresh flatleaf parsley, chopped
finely grated zest and juice of 1/2 lemon
100g fresh ricotta cheese
180-200g wholewheat spaghetti
Things that always go well together: olive oil, garlic, parsley and lemon zest. Add in some good greens and healthy nut fats, along with some wholegrain pasta and you have super tasty, super easy, reasonably quick, brilliant food for doing exercise on – especially if you're veggie. Protein and fats in the cheese, oil and nuts, carbs and good grains in the wholewheat pasta, iron in the broccoli. This is higher in calories than I'd normally eat in a meal of my own making – just over 600, and you could probably cut it down by reducing the pasta (don't reduce the fats, we're all up on the evidence on lo-fat diets being useless for losing weight, right?), but as I've trained and run a marathon recently I've been looking for good energy and recovery meals. This is a brill one. And nice and easy to do with mates too. Original from the book Easy Vegetarian One-Pot. RECIPE:
Prep: 10 mins | Cook: 30 mins | Serves: 2
Nutritional info: 691 kcal, 74g carbs, 35g fat, 23g protein
INGREDIENTS PHOTO: (I forgot the parsley)
So, first up, stick the walnuts in an oven on around 180'c for 6-8 minutes, so they're browning but not getting hard or bitter.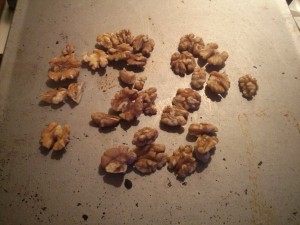 Then chop off about 2cm of the end of the broccoli – the dried up bit, and then slice the rest of the stalk right up to the florets, chop it up a little if massively thick. Then add the oil to a large frying pan, and gently sautee the stalk sections for about 5 minutes.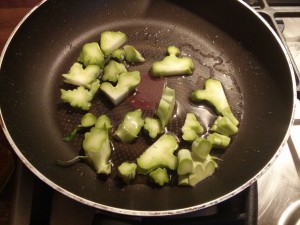 Then add the broccoli heads, and keep them cooking until tender. 5-8 minutes. MEANWHILE. squash and chop the garlic, chop the parsley, zest and juice the lemon, and probably take the walnuts out already.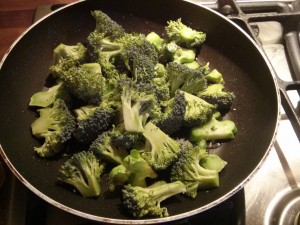 By the time you've prepped all the stuff, the broccoli should be about tender. Add all of the stuff apart from the ricotta and lemon juice: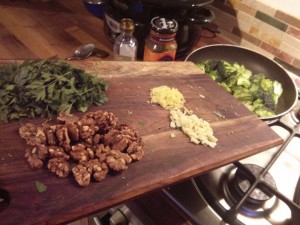 heat this through for 5 minutes, and put the pasta on.
Then add the ricotta and lemon juice, stir around and heat very gently until the pasta is ready. Season well. Really well. Lots of salt (I like salt, please make sure it's to your taste).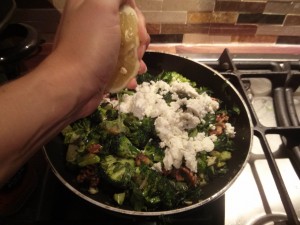 When pasta is ready, drain, combine, serve, enjoy.