25g butter
1 tbsp olive oil
225g baby onions
200ml dry white wine
2 medium leeks halved and cut into ribbons
350g petit pois
3 heads of baby gem lettuce quartered lengthways
200ml creme fraiche
2 tbsp chopped fresh mint
2 tbsp chopped fresh parsely
couscous, or pasta to serve
Yeah, I know, it's been AGES since I posted here. Alex has been keeping up his end of posting admirably in my absence. I'm suffering from the London Lifestyle Problem, I moved here about 3 months ago now, and aside from being too poor to experiment with food, I have a lot more work, and notably, most of it is now not work I do from home. It takes me about an hour to get home now, and then if I'm going to a gig or show in the evening, there's just no time to go home and cook. Or if I am home, I have 2 hours to get all my emails done before needing to be asleep, or phone calls to do I can't do during the day. Blah. Blah. I HATE THIS. I'm eating loads of crap from EAT, and Pret and places like that. Yuck. So it was really nice to try this new recipe. When I can cook I've been living off thought-less recipes like risotto, or Alex's brilliant Green Vegetable Sauce pasta, and this one is definitely going on the list. Quick, fresh tasting, and relatively cheap. Serve it with couscous or pasta. Pretty much straight out of the Good Food 101 Veggie Dished book.
Prep: 10 mins | cook: 20 mins | Serves: 4
Nutritional Info: 321 kcals, protein 9g, carbs 18g, fat 20g, saturated 10g, fibre 8g, salt 0.23g
Ingredients, mostly:
I used shallots. I didn't know if that's the same as 'baby onions'. They're little anyway. melt the butter, and then add the onions and gently cook for 8-10 minutes until soft.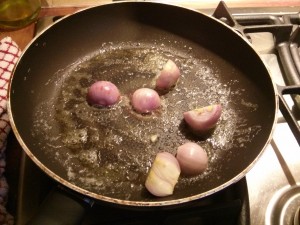 Add the wine and the leeks and simmer until tender, about 5 mins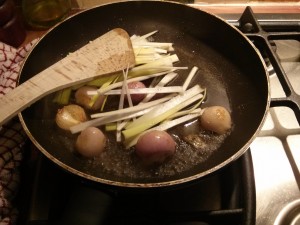 Add the peas and simmer for 5 mins more, if you're doing pasta, start it here.
then add the lettuce and simmer for 3 mins
Start your couscous, if you're doing that. Stir through the creme fraiche and herbs, season through and warm gently for 2-3 mins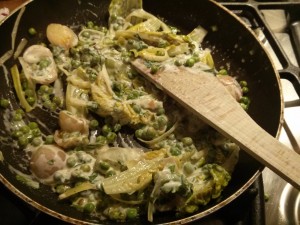 Serve on a bed of couscous (well seasoned and stirred through with oil) or pasta. DONE.