6 - 8 sausages
1 onion
1 teaspoon mustard seed
1/2 - 1 teaspoon chilli flakes
2 cloves garlic
1 400g tin of lentils, drained
1 400g tin of tomatoes
(up to) 100ml water
2 tsp dried sage
salt & pepper
3 big glugs of olive oil
I rarely use meat substitutes in cooking. When I do it's usually veggie rashers and sausages.  You'll know what your favourite sort are; these are Cauldron herby ones. This is a really simple, hearty tea. Vary the amount of chilli depending on how strong your flakes are, and how hot you like it.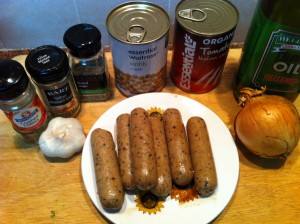 Put the oil in a pan over a medium/low heat. Add the mustard seeds, the sausages and the onion. Cook for five minutes to soften the onion and colour the sausages.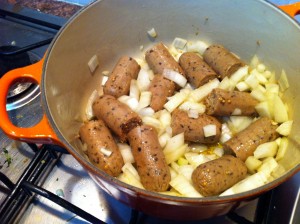 Stir occasionally. Add the chilli and garlic: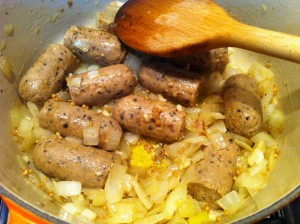 Add the lentils, the chopped tomatoes, and 100ml of water. Stir in and bring to the boil. Then turn the heat down and cover. Cook for 10 minutes.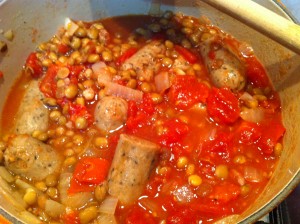 Add the sage, and then cook uncovered for about 10 minutes, maybe a bit longer, until the liquid has reduced enough.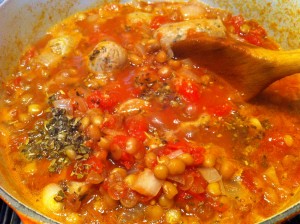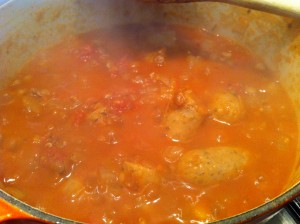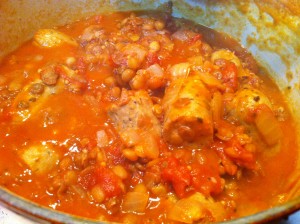 Serve with boiled potatoes, baked potatoes, or, as in this instance, mustard mash.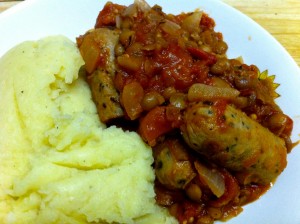 Wine with that? Why not a Portuguese Alentejo Tinto?