1 tablespoons rapeseed or olive oil
A knob of butter or vegan spread
500g nice mushrooms, thickly sliced
150g risoni or orzo pasta
2 garlic cloves, chopped
A few sprigs of thyme (leaves only)
1 teaspoon balsamic vinegar
About 175ml dry white wine
About 100ml soya cream
Sea salt and freshly ground black pepper
A good handful of flat-leaf parsley, chopped, to serve
This is called 'risoniotto' because chefs seem to think that to make us try new things they have to make them sound like old ones. From River Cottage Every Day this is Hugh F-W's LIKE RISOTTO BUT MADE WITH PASTA NOT RICE. I'll admit 'risoniotto' does have a bit more of a ring to it. Although I made it with orzo pasta. Waitrose basic 'essentials' range orzo pasta no less. BASICS. Oh brave fucked up world, that considers orzo pasta 'essential'. What's worse is I was glad to find it. Anyway. This is tasty, nice mix of creamy with the bite of the balsamic. Recommend. HOW TO:
Prep: 5 mins | Cook: 30 mins | Serves: 2
Nutritional info: 514kcal 63g carbs 20g fat 15g protein
Obligatory ingredients pic: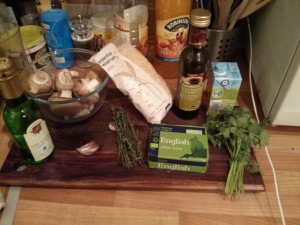 First up, set a pan of salted water on the boil. Then pop the oil and butter in a pan, melt together, add the mushrooms and fry until brown and yummy.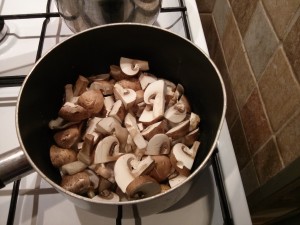 Add the pasta about half way through browning mushrooms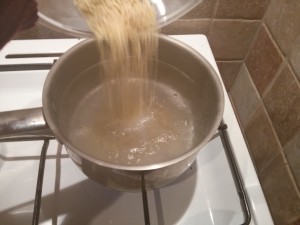 Add the thyme, garlic and balsamic vinegar to the mushrooms, cook for a couple of minutes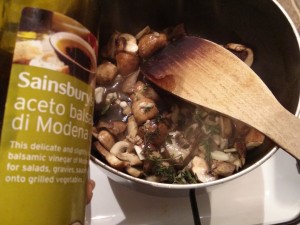 When that's reduced, add the wine and do the same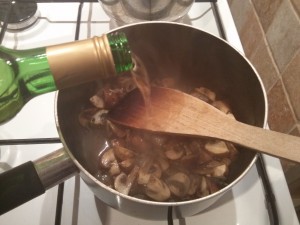 Then add the cream and half the parsely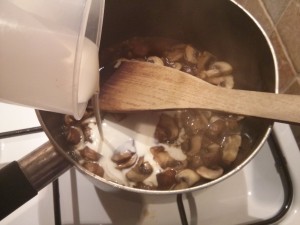 reduce until nice and thick, and add the pasta when al dente, keep cooking until it's… well, risotto texture. Damn.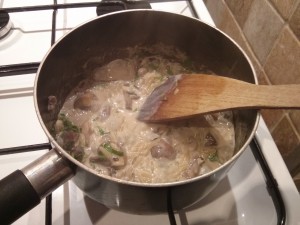 Serve with the rest of the chopped parsley on to. It's not half bad. And tastes lighter than risotto.