2 tbsp chopped fresh parsley
2 tbsp olive oil
1 medium cauliflower
1200ml veg stock
2 leeks, thinly sliced
4 garlic cloves
300g risotto rice
100ml white wine
60g butter
75g parmesan
salt and pepper
ECONOMY DRIVE TIME. So a month into freelancing and it turns out unpredictable money is SCARY. Especially just before Christmas. The stuff it allows me to do is totally worth it, but I'm also starting to try and really reduce food spend. Just until I have some goddam reserves built up. So, enter a phase on Food That We Make of cheap things. But still tasty. Always tasty. First up,  a super simple leek and cauliflower risotto. The rice, cauliflower and leeks all cheap cheap cheap. A little bit of cheese goes a long way, and cheap cooking wine will last a long while for it. I still didn't scrimp on fresh parsley, though. It lifts the flavour too much to take out. So yeah, big amount, good flavour, very filling. My version makes the cauli quite smooshy, and I like the melty cauli style, but if you like your brassicas firm, then remove all stalkage and add with 15-20 minutes to go.
Serves: 4  |  Prep Time: 10 mins  |  Cook time about 30-40 mins
Nutritional Info: 593 kcal, 74g carbs, 25g fat, 15g protein
Ingredients pic!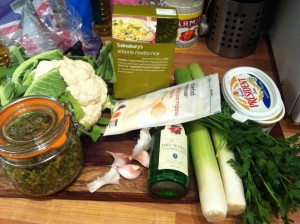 weigh everything out, slice the leeks thinly, crush and chop the garlic, break the cauliflower into florets, taking off the thickest bit of the stalks. Set the stock on to boil. Heat the oil in a well big pan.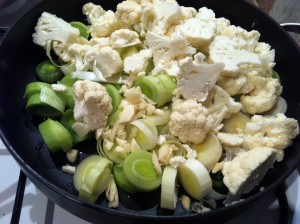 Add the garlic, leeks and cauli and soften over the heat for 5-10 mins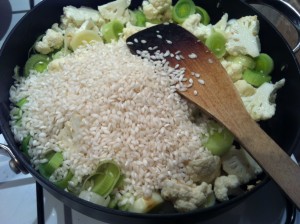 Add the risotto rice, stir through and cook for about 2 mins until the rice is slightly glossy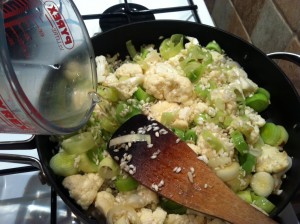 Add the wine, stir until absorbed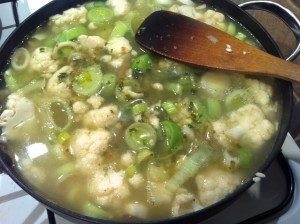 If you're not in a mega rush like I was, add the stock a bit by bit until absorbed and the rice is al dente. If in a massive rush add it all and hope it's the right amount. Reduce for about 2o-25 mins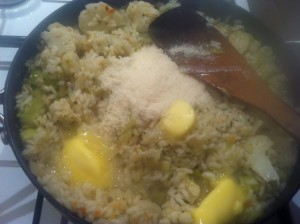 When it's reduced, add the butter and parmesan, stir through for a couple minute more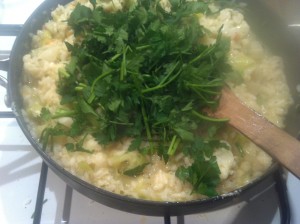 Then add the parsley, season to taste (loads of black pepper) and serve. Voila: