400g potatoes for mashing
100g lentils (I used puy)
1 large or 2 medium onions
1 tbsp sunflower oil
1 bay leaf
4 cloves of garlic
1 generous tbsp of tomato puree
1 litre veg stock (only use 750ml to begin with, and top up if necessary)
2 large carrots
4 celery sticks
2 large parsnips
400g broccoli
400g french beans
4 tbsp soya cream and a tsp butter
Does not contain gardeners. Contains gardened things. It's basically Shepherd's pie but without the meat. And tasty. Add the lentils in for a bit of bite and protein, but if you run out or something, it won't ruin it. This was originally a BBC Good Food recipe, I think, but a bit low the first time I cooked it (and I don't like adding flour to thicken things if I can avoid it), so I added some tweaks including thyme, a bit of marmite, better mash ingredients (follow them properly and it'll be worth it) and a different manner of putting together. Perfect for this time of year with the nights drawing in, a proper cheap meal for one, or lots of people (it microwaves like a boss. By which I mean, well), can't go wrong really. Here we go:
Serves: 4 | Prep: 5 mins | Cook: 35-40 mins
Nutrition:  (I can't imagine my tweaks have changed this too much) 241 kcalories, protein 9.7g, carbohydrate 39.6g, fat 6 g, saturated fat 1.6g, fibre 7.4g, salt 1.86 g
Ingredients pic: (I have been known to add a half a leek per person, too, works nicely)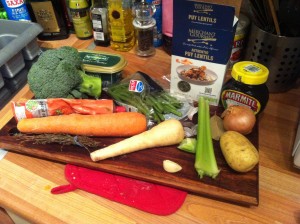 add the oil to a pan and soften the onion and garlic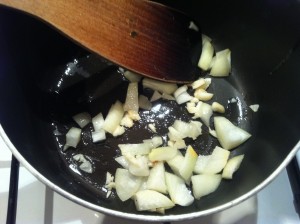 Then add the carrots, celery and parsnips, and continue to soften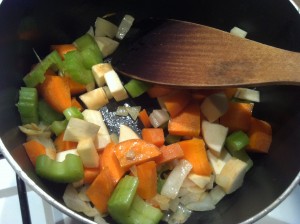 when beginning to get tender, add the lentils, bay leaf, tomato puree, 3/4 of the stock, and a healthy dollop of marmite.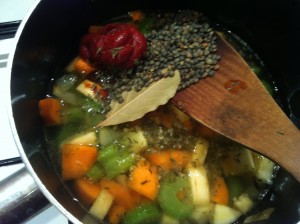 around about the same time, chunk your potatoes, put them into some salted water and start them off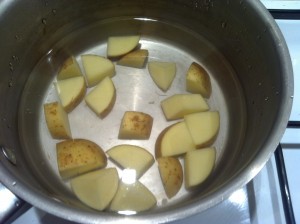 the pie mix should be gently bubbling away, simmer for 25 minutes, or until lentils are tender. You can speed this recipe up by about 15 mins if you leave out the lentils, but they are worth it. Add more stock if it needs it. You want gloopy. Gloopy pie mix.
Just as the lentils are nearly cooked, hopefully your potatoes should be ready. Mash them.
To make the mash, once the potatoes are well cooked, drain, put about 1/2 a tsp of butter per person, a little seasoning, and a generous splash per person of alpro soya cream in (trust me on this, dairy consumers, its slightly vegetabley taste comes into its own in savoury dishes) and if you're feeling posh a tiny bit of rosemary. Mash.
Then clean out that pan (or if you're the kind of fancy person with more than 2 medium pans, just get a new one) and set some water on to boil ready for the green veg.
Hopefully your pie mix should be nice and thick now. Spoon it into a casserole dish.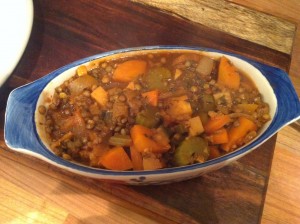 And using a spoon and fork, very thinly spread the mashed potato on top, it never goes as far as you think, so be sparing to begin with. The technique I use is teaspoon of mash, and sort of spread it from the spoon onto the pie using the reverse of the fork. Leaves a nice texture, too.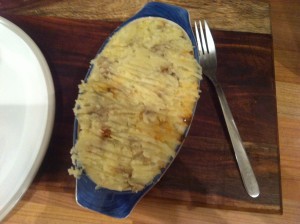 Your water should be boiling now, chuck in the broccoli (and about 3 minutes later the green beans). Pop the gardener's pie under the grill when you start the greens. Dunno what heat, mine just seems to have an 'on' or 'off' mode. Put it on 'on'.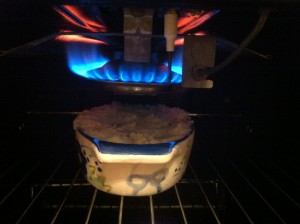 I totes have a gas oven now. I sort of haven't gotten used to it yet. Much more unpredictable.
Anyway, all being well, veg and pie should be done at the same time. Drain the veg, serve with the pie which should be lovely and crispy on top. That's it. Tasty, easy, cheap, vegan. Yes.