250g paneer
1 tin of chopped tomatoes
1 onion
1 green chilli
a "thumb sized" piece of ginger
2 cloves garlic
300g frozen peas
fresh coriander
3 - 4 tbsp sunflower oil
300ml vegetable stock
1 tsp cumin seeds
2 tsp ground cumin
1 tsp ground coriander
1 tsp turmeric
2 tsp garam masalla
This is probably my favourite curry of the last five years. I get it from takeaways and restaurants all the time. (Regular visitors to this blog might have noticed that I like peas…) I've been trying to make this as tasty as a curry house in Birmingham I went to a couple of summers ago. I'm not there yet, but getting closer. So this is a combination of a couple of found recipes, plus some modifications.
Here's what you need: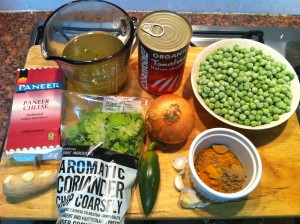 Chop the onion and the chilli (I left most of the seeds in, if you want less heat, take the seeds out), finely chop the ginger (I used about a quarter of the piece in the photo), crush the garlic.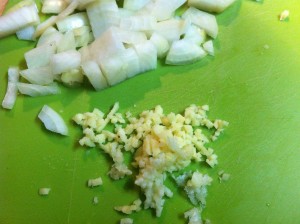 Chop the paneer into chunks, and then fry in the oil until golden. Be careful to separate the paneer chunks as it goes into the pan.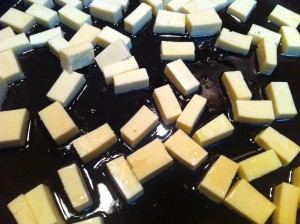 Once they're done, scoop out and set aside on kitchen roll: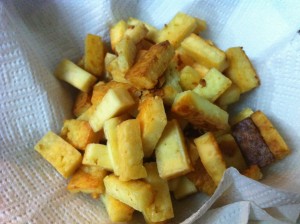 Turn heat right down under the oil. Add the onion and chilli to the pan, and soften for 5 minutes. Add the ginger, garlic and the spices (or curry paste if you'd prefer). Fry for a further minute.
Add the tomatoes and stock, bring to the boil, then turn down to simmer. Mash the tomatoes down a bit if they're too chunky (I use a potato masher):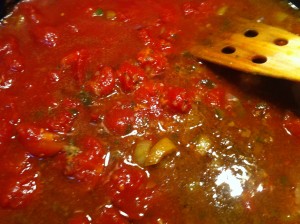 Simmer for at least ten minutes, until quite thick – but not quite as thick as it needs to end up: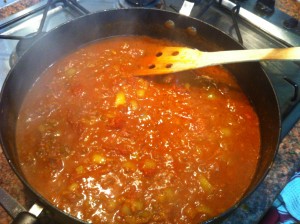 Add the peas and the paneer, cover and simmer for at least 5 minutes. If you can turn the heat right down and simmer for longer, then that's better:
Uncover, and simmer for another 5 minutes – if needed – to thicken it up a bit more. Roughly chop the coriander and sprinkle over.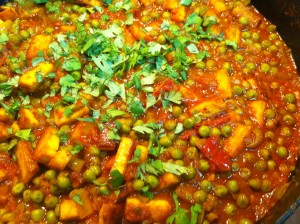 Serve with yoghurt and naan bread, and a medium – full bodied Portuguese red wine (preferably an Alentejo).