125g pappardelle
1 tbsp olive oil
1/2 onion, chopped
1/2 aubergine, diced
2 garlic cloves, chopped
80g artichoke hearts (drained)
50g sundried tomatoes, roughly chopped
1 tbsp capers, rinsed
15g pine nuts
1 small handful torn basil leaves
Optional:
drizzle of chilli (or other flavoured) oil
mushrooms, 4 per person.
First new recipe in the new house! I've been busy doing things like finishing the PhD and moving house and starting a new career as a 'freelance' whatever I am, so haven't posted for a bit. WORRY NOT. I return. With a very very simple recipe that you can cook within the time the Archer's happens. Or any 15 minute period, whatever. Simple and tasty, though I think next time I'll add in some mushrooms with the aubergine, and drizzle with a little flavoured oil – chilli oil would go really well, but you could do worse than a bit of the oil from your sundried tomatoes. Just a bit, mind. This was my first experience of cooking with artichokes and capers. Tasty, it turns out. NO FURTHER ADO. Go:
Prep: 5 mins | Cook: 15 mins | Serves: 2
Nutritional Info: 467kcal, 44g carbs, 27g fat, 12g protein
Ingredients: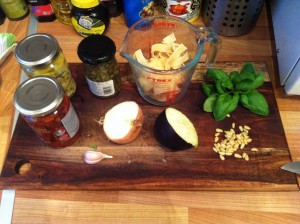 Prep everything. Then pop the pappardelle on the boil in salted water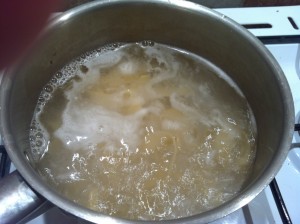 While that cooks, soften the onion and aubergine in the olive oil. This is when I'd chuck in some mushrooms if you feel like bulking it out a bit.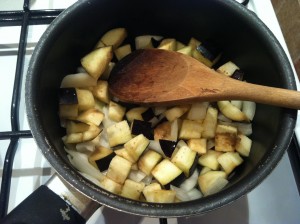 Meanwhile, gently toast the pine nuts (keep an eye on them and keep moving them around to keep from burning the damn expensive things, remove from the heat when almost-tanned)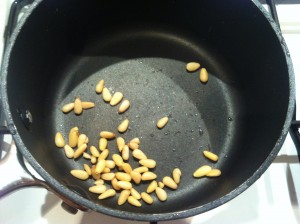 After 8 minutes in, add garlic to the aubergine/onion and fry for 2 minutes more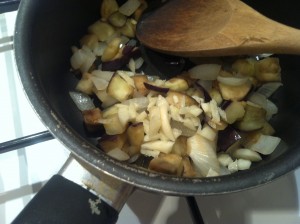 Then add the artichoke hearts, capers and sundried tomatoes, and heat gently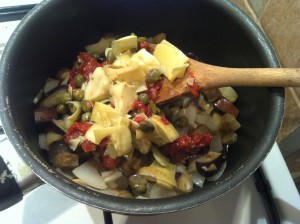 When the pasta is al dente, drain, and add the aubergine mix to the still-warm pan. Combine.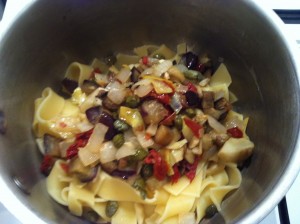 Season, and serve sprinkled with torn basil and toasted pine nuts. Drizzle with a little oil, flavoured ideally. et voila!