2 tsp sunflower oil
couple garlic cloves, chopped
1 onion , sliced
2 tbsp medium curry powder
400g chopped tomatoes
750g potatoes , diced
2 tbsp spiced mango chutney , plus extra to serve
100g soya yogurt
1 tsp mint sauce from a jar
8 plain chapatis
coriander leaves, about half a bunch, chopped
Some shredded lettuce, possible some grated cucumber
I was looking for an alternative 'make in one batch and lunch on throughout the week' to the soups that I always do, and came across this on the Good Food site. It's what I'd classify as 'cheating curry' because, well, it uses curry powder, but I do realise that's probably psychological, and if I was doing it I'd probably be putting in the same constituent spices. Anyway, this is a brill and very quick lunch that you can cook at the beginning of the week, and then have throughout, reheated or cool. Curried things only get better with a bit of time so it's all good. Vegan, too. What's not to love? Unless you don't love carbs. In that case go make some lovely soup.
Serves: 4 | Prep Time: 5 mins | Cook time: 15 mins
Nutritional Info: (I think this includes chapatis) 452kcal, 45g carbs, 4g fat, 8g protein
Ingredients:
First off, use the oil to soften the onion and garlic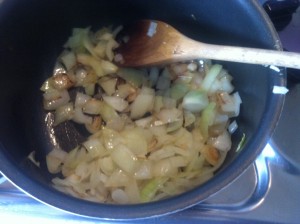 Add 1/2 a tbsp of the curry powder to some salted boiling water, and then boil the diced potatoes until tender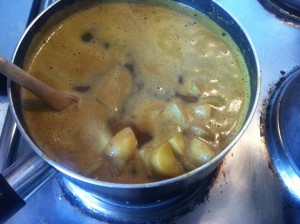 meanwhile, add the remaining curry powder to the onion/garlic, stir for a minute or so, then add the tomato, season, and simmer.
meanwhile 2: add the tsp of mint sauce to the yoghurt and stir in, another cheaty thing, but tastes well nice, actually. You might want to grate in some cucumber too, that would be nice.
Once the potatoes are tender, add to the tomatoes with 2 tbsp of mango chutney, stir and heat through
heat the chapati as per instructions, then serve the potatoes (2 wraps per person, about 350g of potato mix for 2 wraps) on a bed of shredded lettuce, or maybe some spinach, or just on their own. Scatter with chopped coriander, drizzle with minty relish and a bit more chutney if you want, fold and eat!