1 tbsp veg oil
1 onion sliced
2 garlic cloves
2 tbsp tomato purée
1 splash soy sauce
200ml sherry or Madeira
200ml veg stock
100g pearled barley
1 tbsp chopped fresh thyme
Salt & black pepper
spoonful marmite
3 parsnips
3 med carrots
3 large leeks
5 celery sticks
200ml veg stock
400g baking potatoes finely sliced
1/2 tbsp olive oil for brushing
So I'm pretty much ready for Autumn, now. The blackberries are trying so hard to come out (I am waiting to pounce for a big batch of cheaper than usual blackberry and apple jam). And the coolness after rain is making me long, a little, for red leaves, crunchy cold mornings and, well, the END OF THIS GODDAM PhD… and all the exciting things Afterwards might bring. I want to feel warm under my sheets, and have an excuse to make crumbles and cook things with parsnips and things.
I think you get that I'm ready for Autumn. Sorry, it's my favourite season.
Anyway, that's mostly why I made this. It's part of operation 'pretend it's Autumn and maybe, eventually, it will be'. This is ridiculously hearty (but also healthy) rich and vegan. Cheap, too. Cheap as hell, which will be important if you make my 'mazing mushroom soup in the same week. Quite a few tweaks for this one, which is one of Simon Rimmer's, whose recipes I tend to find a little uselessly complicated. Also, where on earth do you buy Madeira? Not found it anywhere yet. Subbed with some medium dry sherry, because they didn't have dry, or port. Rubbish alcohol section is rubbish.
Prep Time: 30 mins | Cook Time: 45 mins | Servings: 4 hearty servings (2 pictured)
Nutritional Info: per 1/4 396kcal, 5.8g fat (0.9g sat), 61.7g carbs, 9.6g fibre, 6.6g protein, 8.9g sugars
Ingredients: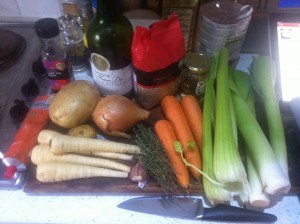 I might also be tempted to add a box of white mushrooms to the sauce from the onion softening on in, if you're wanting to bulk it out even further, and have them soak up some of the ace sauce. Anyway, yes, soften the onion and garlic in the veg oil.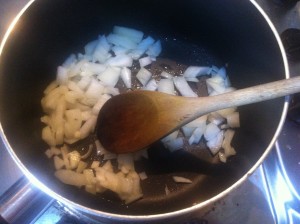 Add the tomato puree and cook for a minute or so
Then add the first lot of stock (200ml if cooking for 4), the sherry/Madeira, splash of soy sauce, bring to the boil, and then add the barley. Bring to a simmer and cover to cook for about 20-25 minutes until the barley is tender & cooked (this is sped up if you soak it beforehand, for about a 10-15 minute reduction on cooking time). Keep an eye on this, you'll probably need to top up the water in it if it begins to boil dry before the barley is done.
Meanwhile, chop the veg and slice the potatoes very thinly. Parboil the potatoes for 5-10 minutes in salted water. Drain and set aside.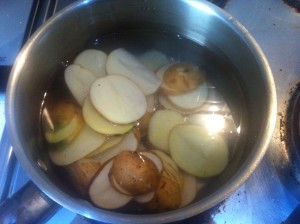 Bring the second lot of stock to the boil, and add all the veg. Cover and cook until tender. About 10 minutes.
Hopefully that will be done about the same time as the sauce. Add the thyme to the sauce…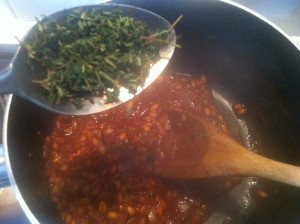 And then combine the sauce and the veg in one pan. I added a tsp of marmite here. And a little more tomato puree, and a drop more water. Season well (to taste, anyway).
Then transfer into a deep (very deep) casserole dish, take the potato slices, and lay across the top in layers, each layer I sprinkled with salt and brushed with a little olive oil. You might also like to crumble a last bit of thyme leaves over it. You could also sprinkle a bit of cheese if you wanted to un-vegan it.
Stick under the grill for 10-15 minutes until the potatoes are crisp and awesome looking. Stick some green veg on when you put it under the grill and serve with something like green beans…
Comme ci. Le om le nom.