25g of dried porcini
1 tbsp olive oil
600g mixed fresh wild mushrooms, cleaned and sliced
2 cloves of garlic, peeled and finely sliced
1 red onion, peeled and finely chopped
20g of butter
a handful of fresh thyme, leaves picked
sea salt and freshly ground black pepper
1 litre vegetable stock
a handful of fresh flat-leaf parsley, leaves picked and roughly chopped
150ml soya cream
This is not a cheap recipe. Please do not make a cheap version of this recipe. Please go out and invest in one of the tastiest soups EVER by buying at least 4 types of mushrooms. Mushrooms that actually taste of something. If you put white mushrooms in this I will send the soup police around to your house and no one is seen again after the soup police are sent to 'deal' with them and in the same week Covent Garden Soups release a new 'seasonal' variety which is coincidentally red-coloured. Also, just totally make this, it's ridiculously tasty. Based on a Jamie Oliver recipe, I think, but with soya cream and things. Vegan if you use a butter substitute, too. FYI the mushrooms I used in this were: Shiitake, Portabella, Chesnut, Oyster, Porcini, Maitake, Hon Shimeji and Shiro Shimeji. The posher sounding ones all come in the Sainsbury's 'selected for flavour' taste the difference box. The mushrooms probably cost about £5-6. TOTALLY WORTH IT.
Prep Time: 10 mins | Cook Time: 20-40 mins (depending on patience) | Servings: 4
Nutritional Info: per serving: 178 kcal, 10g carbs, 35g fat, 7g protein
Ingredients: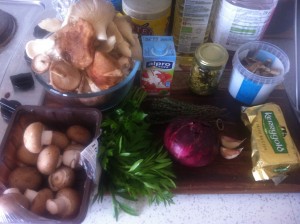 First up, cover the porcini in boiling water and leave to hydrate. Then put the olive oil in a large pan, heat, then chuck in all the sliced mushrooms, fry quickly for a minute or so…
Then add the onion, butter, garlic, and thyme, season, stir together, cook for a few minutes until the mushrooms start to sweat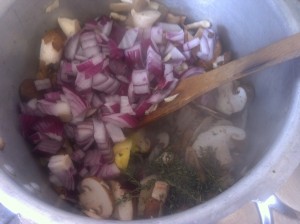 Then chop and add the rehydrated porcini, and add the soaking liquid (strained if you're fussy about grit)
Cook down until most of the liquid has evaporated, then add the stock, simmering for 10-20 minutes more.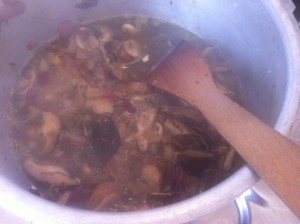 Nearly there! Roughly blend the soup with a hand blender. Season to taste.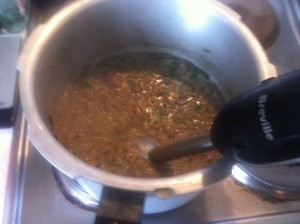 Add most of the the parsley and all the cream, and blend a bit more. Then add the last bit of the roughly chopped parsley, stir through.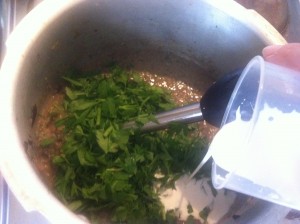 Serve! Eat. Die of TASTY.