100g pearled spelt
12g dried porcini mushrooms
1 tsp olive oil
1/2 onion , finely diced
2 garlic cloves , finely chopped
200g chestnut button mushrooms , cut into quarters
60ml white wine
500ml hot vegetable stock
1 tbsp half-fat crème fraîche
60ml soya cream
bunch chives , finely chopped
Technically this isn't risotto, because it's not made with risotto rice (arborio, in fact), but HF Whittingstall uses the word 'speltotto' or something which is a portmanteau that makes me feel a bit odd, and that I can't type without paying attention. So let's just call it 'risotto made with spelt barley instead of rice'. It requires less thinking. This is actually based on a GoodFood recipe, but it's not very generous, and isn't detailed enough (I think) for people who probably aren't all that used to cooking with barley, so it's taken me about 5 attempts to tweak and work this out to the point at which I'm happy to offer it to you to make. Don't expect this to taste the same as risotto, which is a subtler texture, but this is really tasty in its own right, and the texture of properly cooked barley is actually really satisfying, sort of the same feeling as mushrooms, now I think about it. Anyway, give it a go, spelt is cheap and proper good for you. Nice  'good' carb replacement for the 'bad' kind, too. Vegan if you replace all the creme fraiche with soya cream.
The only thing to mention before we start: soak the barley, that's the key. Seriously, this makes all the difference. Chuck some water over it as you slosh milk over your cereal and leave it until dinner. I've always shied away from prep before you actually cook but this isn't prep, it's watering some grain. It makes the stuff edible. Please do it. You don't need to make the same mistakes I did.
Prep time: 10 mins (1 of  which happens a few hours in advance) | Cook time: 35 mins | Serves: 2
Nutritional info: 297kcal 45g carbs 18g fat 12g protein
Ingredients pic: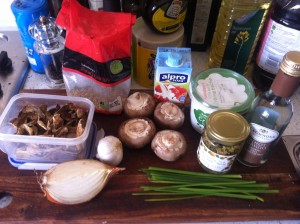 First off, at least an hour before, and ideally in the morning, chuck some cold water over the pearled spelt. It will eventually look like this:
Then before everything else, pour boiling water over the porcini mushrooms and allow to rehydrate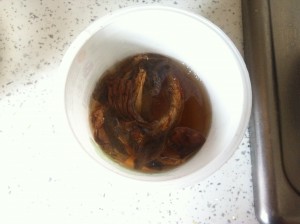 meanwhile, prep all the veg. Then heat the oil over a medium heat, and add the onion and garlic and soften for 5 minutes or so.
Then add the mushrooms, and cook stirring often for 2-5 minutes more.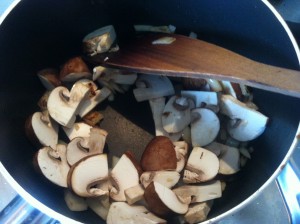 Then, drain the barley, and add to the mushrooms, stir for half a minute or so, then add the wine, stirring as it reduces
quickly pick out the porcini from the soaking liquid, and add 50ml or so to the mushrooms/spelt. Add more of this to taste along with the stock (next bit) if you like.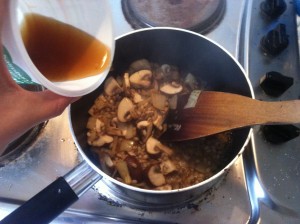 Then chop the porcini and add to the mix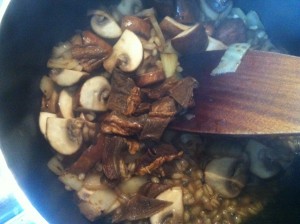 Then, like you would with a regular risotto, add the hot stock in batches until it's all been absorbed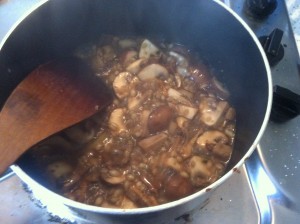 Season, if needed. Then add the creme fraiche and a splash of soya cream (or just about 80ml pp soya cream if you're vegan), then 2/3 of your chopped chives, stir through, serve.
garnish with the rest of the chives, and maybe a bit of veggie parmesan if you want. (Not included in nutritional info)