250g butternut squash peeled, deseeded and cubed
1/2 tbsp olive oil
500ml veg stock (probably with a bit more)
1 tbsp butter
1 leek, halved and thinly sliced
1 garlic clove, chopped
165g risotto rice
25g gorgonzola, crumbled.
Optional:
Few sage leaves
splash of white wine
I love risotto. Such an ace opportunity to take a basic set up and put together loads of different variations on flavours. This one's unorthodox in containing NO ONION, which would be good for my mate Lucy who's both gluten intolerant and allergic to onions. I know you're glad I told you that. This'un's from the Vegetarian Student Cookbook. I'm not 100% which one, but it's definitely the one I've got, so if you really want to know, I will go and dig it out off the shelf. On the basis that you probably don't care, though, for now I'll leave it.
As for alterations, I parboiled the squash really briefly before roasting because I was lazy and wanted this to be a quick dinner. I also added a splash of white wine before adding stock, and as a mid-cooking thought picked some sage and chucked that in (chopped). Seemed to work. Will try it without tomorrow and if it's better (because competing strong flavours isn't always the best thing) I'll edit with that info. For now:
Prep time: 5 mins | Cook time: 30-35 mins | Serves: 2
Nutritional info: (without added wine, and gorging inappropriately on additional gorgonzola while cooking): 470 kcal, 81g carbs, 12g fat, 11g protein
Ingredients pic: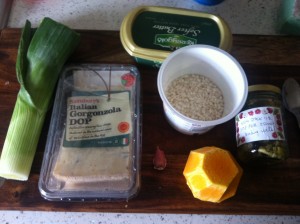 Chop/peel/cube the squash, pop in a roasting tin with the oil, season and shake to coat well. Roast on a high heat (I dunno, about 200'c, I didn't really look) for 30 minutes.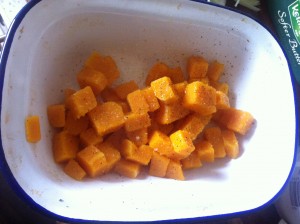 meanwhile… melt the butter in a pan, add the leeks and garlic, and cook for 5 minutes or so, until the leek has softened. Get the stock on the boil.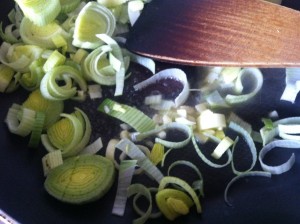 Add the risotto rice, stir until coated in the butter and cook for about a minute before chucking in (if using) the wine, then once that's been absorbed/evaporated, start doing that with batches of the stock.
This is where I actually added the sage, but if I were you, I'd add it when you're softening the leek, FYI.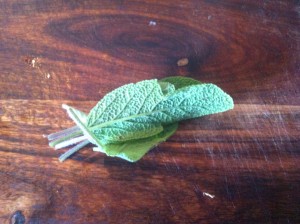 Once the risotto is al dente (soft, with a tiny bit of bite) add the roasted squash and gorgonzola, stir well until the cheese has melted, and serve immediately.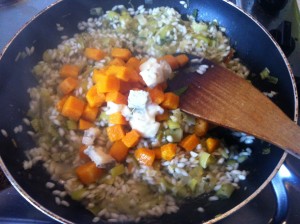 Drizzle oil if you're feeling posh/happy to consume an additional 50-100 kcal.