1 large onions, chopped
1 tbsp olive oil
1 tsp ground cumin
1 tsp ground coriander
1/2 tsp ground cinnamon
400g (1) aubergines, cut into chunks
2 x 400g tins chickpeas, drained
65g raisins
400g chopped tomatoes
425ml veg stock
salt and pepper
So, like pretty much everything in Rose Elliot's New Complete Vegetarian, this recipe is cheap, easy as anything, and stupidly hearty/filling. So much so (and so healthy, too, loads of protein in the chickpeas and the rest is just vegetables) that I might only do 3/4 of a portion next time! I added in some chopped parsley at the end (a good handful) and popped some green beans in with about 8-10 minutes to go, these bits aren't pictured as they were an afterthought (and me being lazy about washing up, as cooking the beans in the same pot works perfectly well). This is similar to another recipe on here, but with added raisins. I bloody love raisins. I'm also often liberal with the spices. I like spices. Cinnamon especially. This'uns totally vegan, too.
Serves: 2 | Prep Time: 5 mins | Cook Time: 30-35 mins
Nutritional info: 445 kcal, 61g carbs, 16g fat, 14g protein
Ingredients sans parsley and beans (sneaking in at the corner)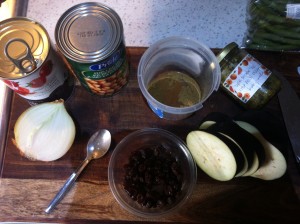 Soften those onions!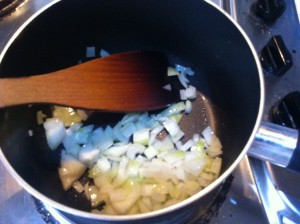 Add the spices and stir for 10 seconds or so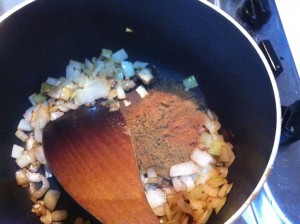 Then add the tomatoes, raisins, chickpeas, aubergine and stock. Simmer for 20-25 minutes until the veg is soft and juice has reduced. If adding beans, halve them and pop in about 8-10 mins before serving and put a lid on the pan.
Season well, stir through parsley. JUST LIKE THAT.