Olive oil
about 1 tsp mustard seeds
2-3 cloves garlic
2 tins chopped tomatoes
about 1 tbsp dried oregano
either 1 tbsp of dried basil in the sauce, or a handfull of basil leaves on the pizza
Cooking mozzarrella
A base of your choosing
Other toppings...
Rather like the Chilli "recipe", this is one of those things that I hadn't thought of as something particularly worth sharing…but a couple of conversations with mates suggest that maybe it is. Improvisation around the theme is encouraged…
For pizza topping you can of course just use passata or tomato puree – this is a little more work, but much tastier – and makes enough to save for the following week.
For the sauce: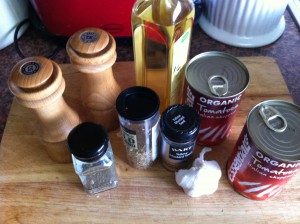 Gently heat 2 – 3 tbsp of olive oil in a large non-stick pan. Add the mustard seeds: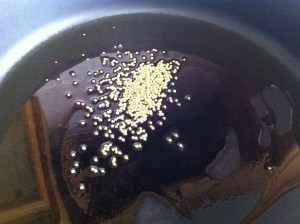 Peel and crush the garlic, add to the pan: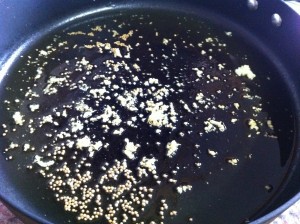 Warm for 3 or 4 minutes. Don't let the garlic burn.
Add the tomatoes to the pan, plus the oregano (and dried basil if using).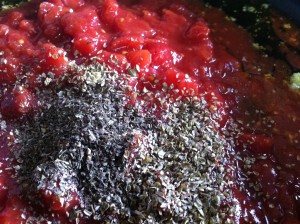 Stir the herbs in.
Mash the tomatoes down in the pan – gently – with a potato masher, until the mixture is smooth: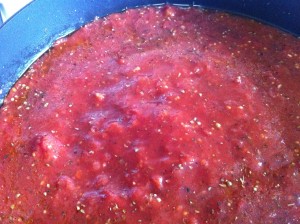 Maybe add a couple of dashes of Henderson's relish. Simmer for 20 minutes or longer, until the sauce is thick and oily. Turn off the heat and allow to cool.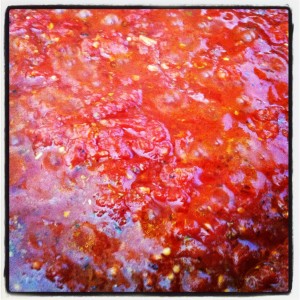 For the base…if you've got a bread maker then pizza dough is an absolute doddle, and the best option. If not, a bought base or a french stick cut down the middle is also very good.
Spread the sauce on the pizza base using a table spoon – don't completely cover it or it will get too soggy – but you know how saucey you like your pizza. Scatter with basil leaves: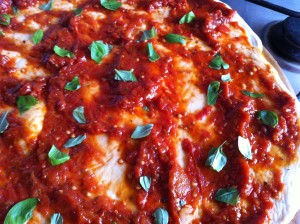 Chop up your other toppings. In this example it's peppers all over and half mushroom, half jalapenos: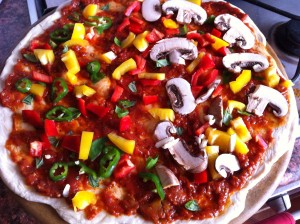 Grate or cube some cooking mozzarrella – you know how cheesey you like you pizza but probably about 150g per person. Maybe replace some of that with cheddar. Remember to photograph it before you put it in the oven: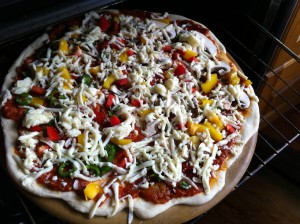 Refer to cooking instructions for the base, but generally about 12-15 minutes at 200c / Gas Mark 6 ish. You know your oven, and how browned you like your pizza, etc. Check it after 5 – 8 minutes. If it is looking soggy, CAREFULLY pour off excess liquid. When it looks something like this…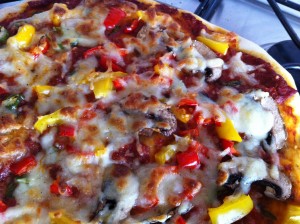 …it's done. Serve with green salad and shaved parmesan.
Goes very well with a medium-full bodied red wine, such as a Portuguese Alentejo.