FILLING:
200g aubergine, thinly sliced
10g butter
1/2 onion, finely chopped
1 garlic cloves, finely chopped
2 (approx 350g) large flat mushrooms, sliced
150g chopped tomatoes
40ml red wine
pinch oregano
pinch cinnamon
SAUCE:
10g butter
10g plain flour
100ml soya milk
20ml soya cream
10g parmesan cheese
pinch nutmeg
4g parmesan for sprinkling
I've spent 3 days reworking this to satisfaction. Based on the Ultimate Vegetarian Cookbook which included potato and no herbs or spices, and some weird and not-quite-enough quantities (at least, when you scale it down to cook for 1, anyway). Tastes much more like moussaka now. Unfortunately the images are of my first attempt so you're missing some of the ingredients (namely nutmeg, oregano, cinnamon, soya cream, wine) and you'll see an egg and potato that I took out. Anyway, I'll explain as I go. And promise you it's worth it.
Prep Time: 20 mins | Cook Time: 30-35 mins | Servings: 2
Nutritional Info: 235 kcal 19g carbs 11g fat 9g protein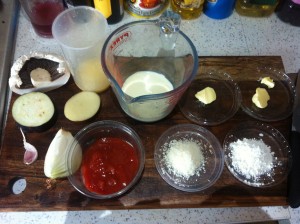 Preheat the oven to 220'c, brush oil very thinly on the sliced aubergine, season well with salt and pepper, and spreading out on the baking dish, bake for 20 min (ignore the potato).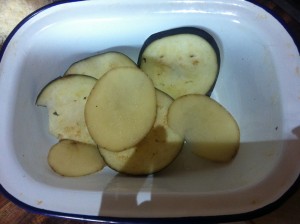 Melt the butter in a large pan and soften the onion and garlic,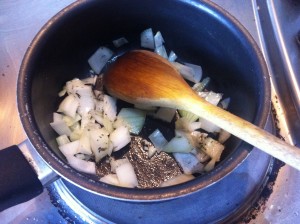 increase the heat, add the mushrooms and a pinch of oregano, and stir continuously for 2-3 mins until soft.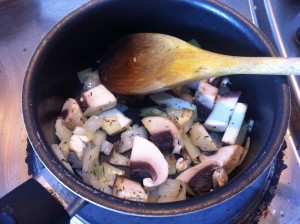 Splash in the wine, reduce, then add the tomato and a pinch of cinnamon, reduce the heat and simmer for 8 mins until reduced, set aside.
Then melt the sauce butter in a large pan over a low heat, add the flour and whisk for 1 min,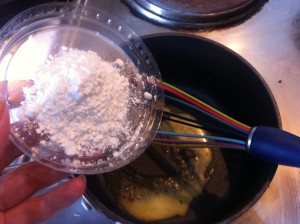 slowly add the milk and stir continuously, simmer unit thickened. Remove from the heat and stir in the cream and parmesan, and a pinch of nutmeg.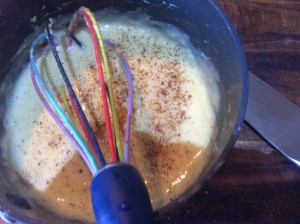 When the aubergine is done, reduce the oven to 180'c, pop half the mushroom mix in the baking dish, cover with half the aubergine, then the rest of the mushroom, a layer of the rest of the aubergine, and pour the cheese sauce over the top.
Sprinkle the sauce with the remaining parmesan, bake for 30-35 mins. Stand for 10 mins before serving with an ace side salad.