150g instant polenta
700ml water
1 teaspoon salt
10g dried wild mushrooms
1 tablespoon olive oil
2 cloves garlic, roughly chopped
500g button or chestnut mushrooms, or a mixture of the two, thickly sliced
1/2 tablespoon tomato purée
1 teaspoon dried thyme
30 ml red wine
3 teaspoons brandy
salt and black pepper
To garnish: chopped fresh parsley or sprigs of thyme
I'm a bit of a fan of mushrooms. And wine. And I've recently discovered that a tsp of brandy in my soya hot chocolate makes it EVEN BETTER (also includes cinnamon). This recipe is basically the best. Sorry, Alex, I know you don't like them. Fast, and tasty, add more salt than you'd expect to the polenta, and a bit of herbs, maybe a touch of flavoured oil if you're a bit disconcerted by it not being like potato. Which, let's all be honest, it looks like and is often used to replace it.
Prep Time: 5 min | Cook Time: 25 min | Makes: 2
Ingredients:  377 kcal, 58g carbs, 12g protein, 8g fat (1g saturated), 2g fibre, 1006mg salt
 Ingredients, check out the fact my porcini has ITS OWN LITTLE BOX. Oh yeah. That's how I live.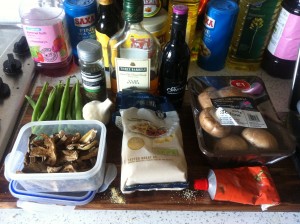 Pop boiling water over said porcini to soak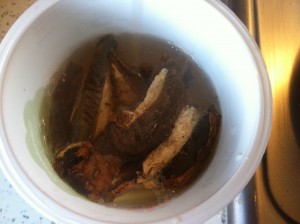 in another pan, heat the oil, and fry the garlic in it for 10-15 seconds…
Before adding the sliced mushrooms. Chestnut for this one, think a nice mix might be better though.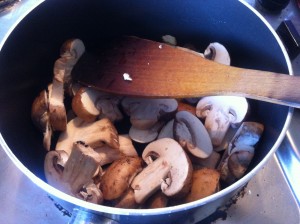 Cook them for 10-15 minutes until 'wilted' which I took to mean 'lovely and soft'.
Take out the porcini mushrooms from the boiling water (now all rehydrated) and keep the liquid, chop the mushrooms, and add about 100ml of the mushroom water to the mushrooms. After it's reduced a bit, add the tomato puree, thyme, porcini, red wine and brandy. Simmer
basically you want a rich sauce, this doesn't take very long, but the longer you cook the deeper the flavours, so I simmered for about 10-15 minutes topping up with wine or mushroom water when it got too dry.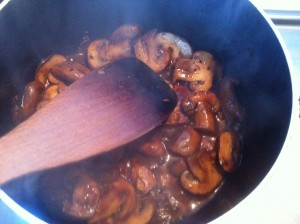 With about 5 minute to go, chuck your french beans into boiling water, and over another medium-high heat add the salt, polenta, and 700ml water and whisk as you go to get out any lumps, a bit of garlic oil and some more thyme at this point would be nice, too. Be liberal with the salt. Just as you're ready to serve test and alter the seasoning in the mushroom pan if necessary, then serve on a bed of the polenta, with the beans.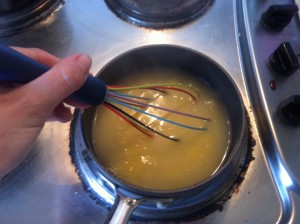 Comme ci.