1 tsp olive oil
1/2 onion, chopped
2 celery sticks, finely chopped
65g runner beans, trimmed and cut into 2.5 cm (1 inch) lengths
800-900ml stock
1 large garlic clove, crushed
180g risotto rice
125ml white wine
65g baby leaf spinach
65g fresh or frozen petit pois
1 tablespoon chopped herbs – parsley, mint, dill, chives, whatever is available
salt and pepper
So I'm always making lovely creamy risottos on here with liberal amounts of creme fraiche or brie or butter or parmesan and although you can probably find replacements for those things, I thought I should make (and try!) a proper meant-to-be-vegan one. So here it is, and doubly well meaning with stupidly seasonal broad beans and herbs cut from my over-grown (and mostly dandelion and potato plant ridden) balcony garden. Although not in the ingredients or nutritional count I should also admit to having chucked a bit of soya cream in at the end, if you're tracking nutrition 40ml or so should up it by 49kcal 2g carbs 4g fat 1g protein. Still pretty healthy, like. Based on a Rose Elliot recipe. So, here we go:
Prep Time: 5 minutes | Cook Time: 35 minutes | Makes: 2
Nutritional Info: 462 kcal, 83g carbs, 5g fat, 10g protein
Ingredients: GREEN THINGS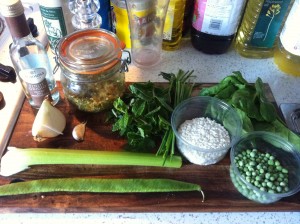 soften the celery and onion in the olive oil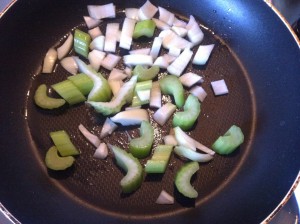 meanwhile, make up you stock, bring it to simmer, and boil the broad bean/s for 4-5 mins until just tender, remove and set aside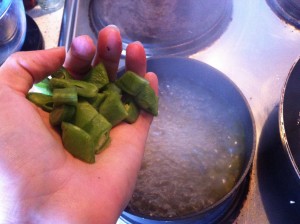 When the onion and celery is softened add the risotto rice and garlic, stir around for a minute, then add the wine and reduce until absorbed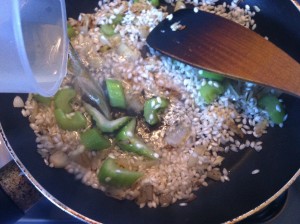 Add the stock a bit at a time, stirring throughout until you've used all the stock or until the rice is tender, this should take 25-30 mins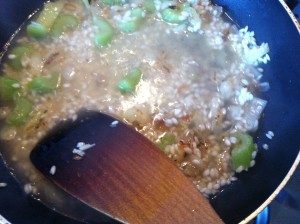 Add the spinach, petit pois, chopped herbs, and broad beans, stir through until spinach is wilted, season and tip in a little soya cream if you fancy it.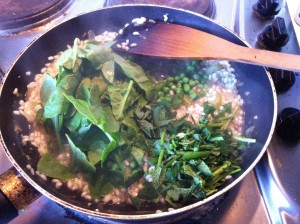 Serve!