70g taste the different porridge oats
260ml sainsbury's sweetened fresh soya milk
40ml alpro soya single cream
liberal sprinkling of cinnamon
3/4 tsp of clover set honey
80g alpro soya yoghurt
homemade blackberry jam
So a while ago, I posted a 'best vegan porridge' recipe (one of the most commented on posts, people have VIEWS about porridge), but not being one to rest on any laurels, I have a new current version of that recipe, one that gets me out of bed of a morning WITHOUT FAIL. It's not strictly vegan now with the honey instead of sugar to sweeten, but replace it with a similar amount of maple syrup (mm) and you're sorted! Highly recommend the blackberry and apple jam recipe on here to go with it, too, almost like crumble! Also, to reiterate from the previous posts, it really is important to pay attention to the kind of soya milk you use – they all vary so widely in manner and amount of sweetening, that they can taste wildly different. If you're using a different favourite brand, then pay attention to which flavours and amount of sweetening in the honey and spices might work better. For example alpro soya's sweetened soya milk is very vanilla-y, so you might want a sharper jam to go with it, or if you wanted to use hazlenut milk maybe a spot of nutella instead of jam might be lovely? All worth bearing in mind, anyway.
Here we go:
Serves: 1 | Prep time: 2 mins | Cook time: 8 minutes
Nutritional Info: 485 kcal, 66g carbs, 17g fat, 20g protein
Ingredients pic: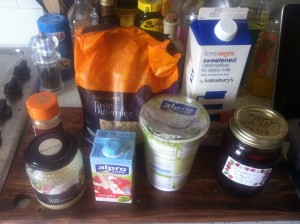 Mix the soya milk and soya cream together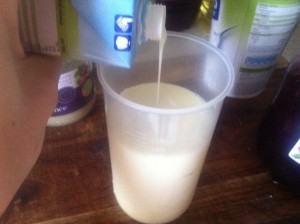 In a pan pop together the oats, cinnamon, and 3/4 tsp of honey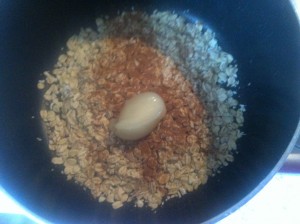 add the milk/cream mix and then, stirring, heat over a medium-high heat until boiling.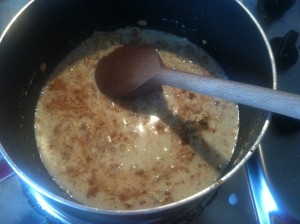 simmer, stirring lots, over a slightly lower heat until lovely and thick, this should take about 5 minutes
serve with a tbsp of jam, and 80g (approx 4 tbsp) soya yoghurt. ENJOY