400g cans of brown lentils, drained (1 can approx)
200g white mushrooms
1 onions, chopped
1 1/2 tbsp live oil
2 garlic cloves, crushed
handful chopped basil
2 sticks celery, finely chopped
1 carrots, finely dived
1 tbsp tomato puree
200g chopped tomatoes
splash of red wine
pinch of sugar
chopped parsley to serve
salt and pepper
150g wholewheat spaghetti
OK, so this is a pretty heavily modified version of a Rose Elliot staple. Do recommend Rose Elliot's Complete Vegetarian for someone starting out on it all. Especially if you need simple meals for mates or families. It's basically got everything, baking, sweets, soups, mains, lunches. Not a 'picture' book recipe book but big and full of brilliant stuff. So yes, this is a brown lentil bolognaise (using green lentils, I should honestly point out), spelled differently because THAT'S HOW I SPELL IT, and I changed lots in the recipe. As I went, too, so some stuff missing from the pictures. Sorry. IMAGINE THEM.
Prep Time: 5 mins | Cook Time: 25 mins | Servings: 2
Nutritional Info: 538kcal 77g carbs 16g fat 20g protein (this doesn't include the splash of red wine or parmesan)
Ingredients (not pictured, chopped toms, parsley, wine, sugar)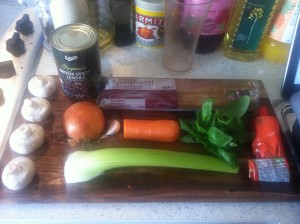 OK, it's time to SOFTEN THAT ONION. About 5 minutes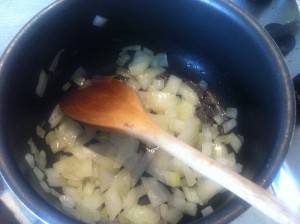 Add the garlic, mushrooms, celery and carrots, fry until tender, about 10 mins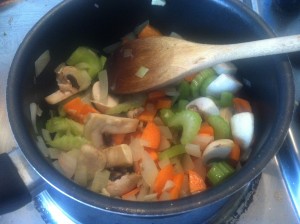 At this point add a splash of wine if you're going to, let it reduce by about half before adding chopped tomatoes (not pictured), drained lentils, puree, basil. Season. Simmer.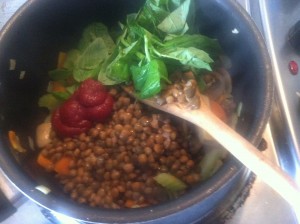 I'm going to go ahead and assume you can cook spaghetti. The nutritional info on this'un uses wholewheat spaghetti so, about 10 minutes all in all. Salted oily water. Set that to go, all the while simmering the bolognaise, top up liquid with water if it's drying up (or wine) add a pinch of sugar to taste, and towards the end adjust the seasoning.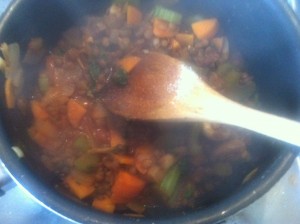 Drain the spaghetti, add a bit more salt to it, some chopped parsley if you've got any to hand and are feeling fancy, and scrunch some black pepper into it, toss, pop on your plate, and serve the bolognaise on top with a nice bit of parmesan and remaining scraps of basil: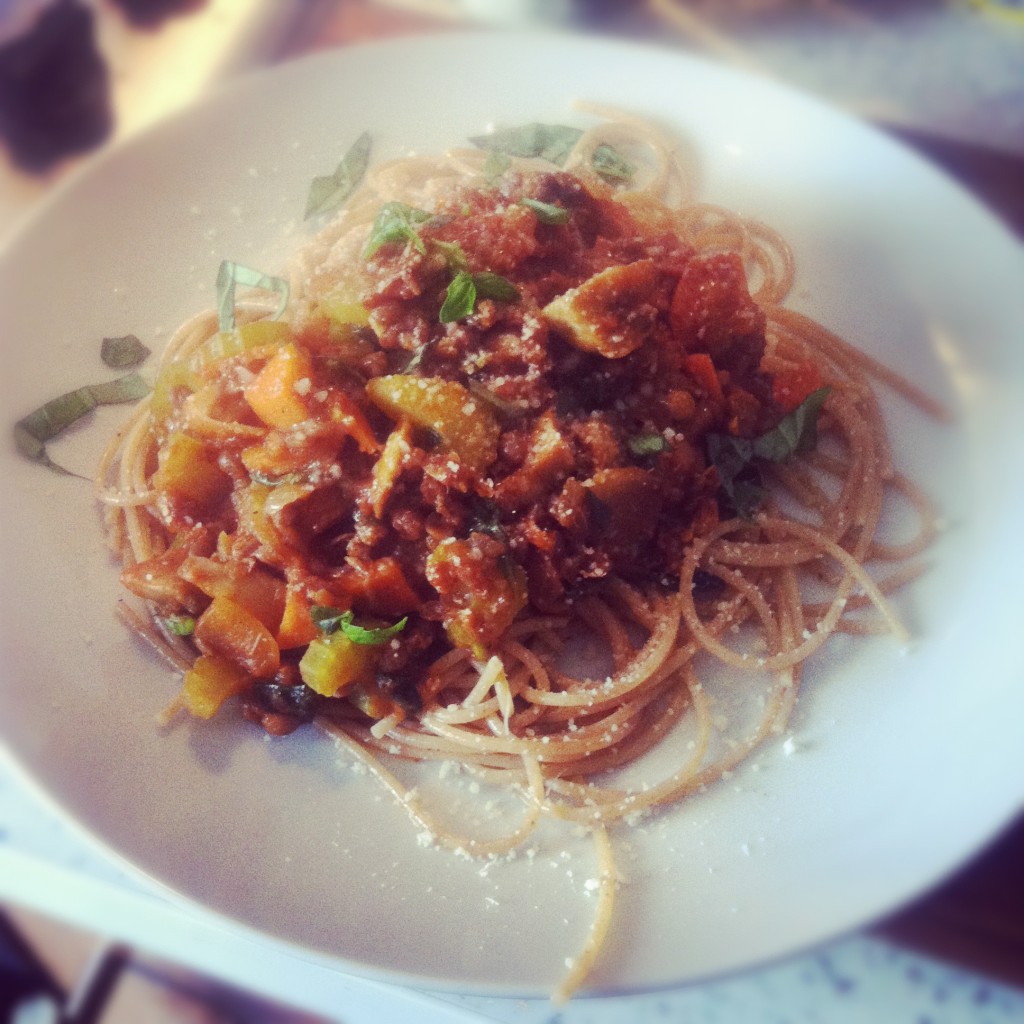 It's better than Rose's, I reckon. But, y'know, shoulders of giants and all that.