1 tsp cumin seeds
1 tsp coriander seeds
1 tbsp rapeseed, olive or sunflower oil
1 onion, peeled and chopped
1 stem celery, chopped
500g carrots, peeled and thickly sliced
1 good pinch dried chilli flakes
an inch or so of ginger, grated (add with chilli)
2 cloves garlic, peeled and sliced
75g red lentils
100g spinach, tough stems removed, leaves shredded
4 good tbsp thick, plain yoghurt
Sea salt and freshly ground black pepper
That's right, we've got some Hugh Fearnley Wittingstall up on the omnomnomnizzle. Actually, isn't that street for 'om nom nipple'? Right, I'll stop. CARROT AND SPINACH SOUP. With a satisfying bit of spice. From the recent veg-convert's Guardian food column. Season this well, and I might even next time grate some ginger in with the garlic and spices, just to add a tad more depth to the spice. A nice warming filling soup, though. Get good carrots.
Prep Time: 10 mins | Cook Time: 35 mins | Servings: 4
Nutritional info: 133 kcal, 20g carbs, 4g fat, 5g protein
 Ingredients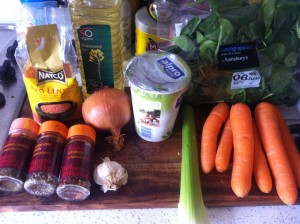 First thing, heat one of your hobs to around medium, chuck in the coriander and cumin seeds, and toast until smelling really ace, about 1-2 minutes. Then transfer to a pestle and mortar and grind until powdery (pictured) if you don't have a pestle and mortar, try the end of a rolling pin and a bowl. If you don't have a rolling pin (going to go ahead and assume you probably have bowls, if you don't, maybe don't make soup?), maybe try rolling a heavy wine bottle (or similar) over the seeds on a chopping board? Or buy a pestle and mortar.
Now, soften the onion, celery and carrots in a large pan over the medium heat, covered, for about 10 mins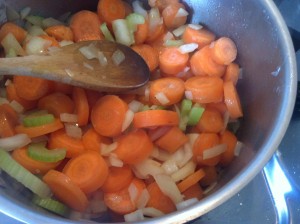 When tender, add the crushed spice mix with a  good pinch of chilli flakes, the garlic, and if using, ginger. Stir and cook for a minute or two.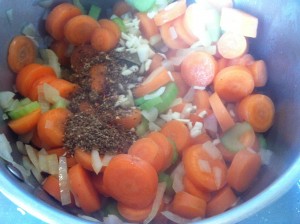 Add the lentils and 500ml of water, cook covered, again, for about 15 minutes more, until lentils and carrots are lovely and soft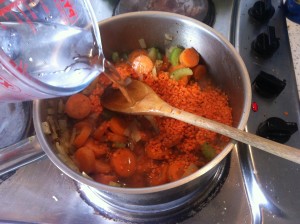 season well, then blend, and add the shredded spinach. Season again if you like
And add a little more water (I added about 100ml more) to un-thicken a little if wanted.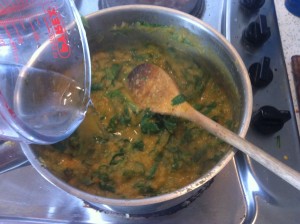 Heat until spinach is wilted, then serve with a generous tbsp of yoghurt on top: