100g butter at room temperature
1 egg
50g mashed ripe banana
1 tsp vanilla extract
100g light soft brown sugar
½ tsp grated orange zest
100g wholemeal flour
¼ tsp salt
1 tsp baking powder
100g rolled oats
25g desiccated coconut
50g chopped walnuts
75g sultanas or dark chocolate chips
Dear reader, I am typing this from a foetal position on the floor, you shouldn't let this put you off though, these cookies are really tasty, the only problem is I just made enough for approximately 40 people (well, this and another flavour), and ate approximately half of the batter. This is the noise I am making: mrrrrrrrhhhh.
These are easy. Cookies are easy. You should make them. And find some people to help you eat them. And come and eat some of mine, tomorrow, at Performance in the Pub. Yes. Plug.
COOKIES.
Prep Time: 30 mins | Cook Time: 20 mins | Servings: Makes 16
Nutritional Info: 167 kcalories, protein 3g, carbohydrate 19g, fat 9 g, saturated fat 5g, fibre 2g, sugar 11g, salt 0.18 g
Ingredients: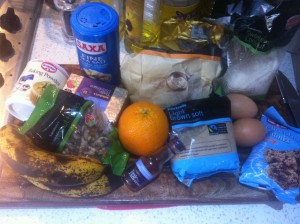 Heat your oven to 180'c. Get out some baking tins, and a wire rack. grease the baking tins, line them with baking paper if you want to be slightly wasteful of paper, but conserve water by not having to wash them up. Weigh out the butter and sugar, cream together. If you just got the butter out of the fridge you can zap it for bursts of 8 seconds in a microwave until soft, but don't melt it.
Add the mashed banana, vanilla essence, and eggs, and beat together until smoothly mixed
In a separate bowl mix together all of the remaining dry ingredients.
Add this to the wet mix, fold together until all lovely and clumpy, and then spoon onto the baking sheets well spaced apart. 1 Tbsp per cookie, and in a sort of heaped oval that's technically called a 'quenelle'. I don't know why it needs a funny name, but what it does it make sure the cookie doesn't get too flat when it cooks. GOOEY MIDDLES.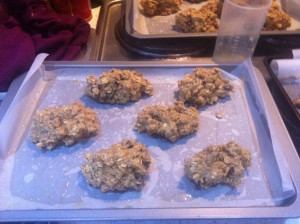 Bake for 15-20 minutes until lightly browned. Leave to rest for a minute or two, and then transfer to a wire rack to cool.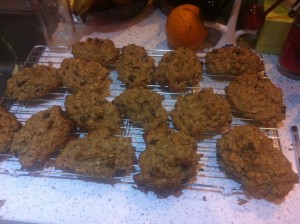 Eat all of them. Weep a little. Write a blog post with nice pictures.