1/2 tbsp sunflower oil
2 garlic clove, finely sliced
thumb-tip piece fresh root ginger, cut into matchsticks
125g chestnut mushrooms , quartered
1/4-1/2 Savoy cabbage, shredded
150g soba noodles
90g jar black bean stir-fry sauce
4 spring onions, sliced
100-200ml water
One of them brilliant Good Food recipes. Worth paying the license fee for alone, that site. AND THEN YOU GET RADIO 4? Fuck commercial broadcasting, srsly. Anyway, this is super-tasty, very quick and nicely filling. Pretty healthy, too. Look out for soba noodles in the specialist bit of the supermarket, they weren't in the regular noodle bit of my Sainsbury's, found them where they keep things like posh pastes, tapenade, porcini mushrooms and things. Do try and find them if you can, they're SUPER tasty, and I think are what gives this  just the right balance of bite; buckwheat or something, Soba, I think. Also, this recipe is the FIRST TIME I HAVE EVER BOUGHT A CABBAGE. I am totally sold on cabbage.
Prep Time: 10 mins | Cook Time: 20 mins | Servings: 2
Ingredients: 362 kcals, protein 17g, carbohydrate 66g, fat 5 g, saturated fat 1g, fibre 5g, sugar 9g, salt 4.64 g
Ingredients pic: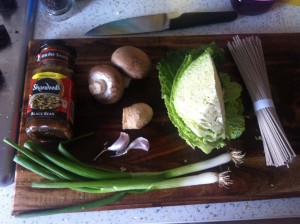 Prep the veg, do it now, or spend the next 15 minutes in a state of panic.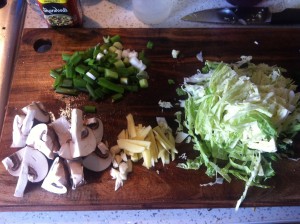 Set a pan of water on to boil, and then over a medium heat, soften the garlic and ginger (I put a lot of ginger in, I like it) for 2 minutes or so.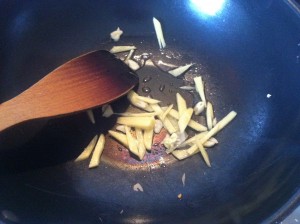 add the mushrooms, and stir fry for 4-5 minutes until lovely and golden


Add the cabbage and stir-fry for 1 minute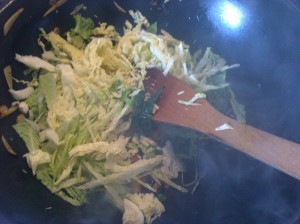 after that minute, put the soba noodle in the boiling water, cook for 7 minutes or so (or as per packet)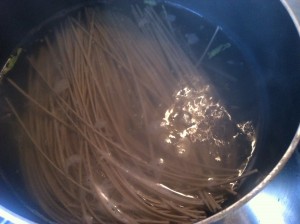 after dropping in the noodles add the black bean sauce to the wok, stir fry for 1 minute, and then add the water, enough to help cook the cabbage but not too much that it waters down the sauce too much, I used about 100ml when doing it for 1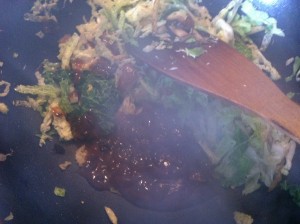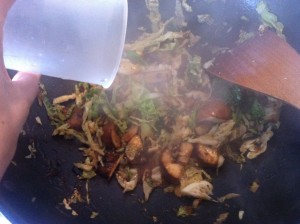 Simmer for 5 minutes until the cabbage is tender, then drain the noodles and add along with the spring onions.


Toss, and serve! Mmm…