85g butter, or 'Pure' sunflower spread if lactose is an ussye plus 1 tbsp extra for tin
85g golden caster sugar , plus extra for tin
85g gluten-free lactose-free dark chocolate (the good stuff, basically), broken into pieces
1 tbsp brandy
3 eggs, separated
85g toasted hazelnuts, ground in a food processor
4 very ripe pears, peeled, halved and cored
icing sugar, for dusting
creme fraiche to serve
Cake! Chocolate cake! Chocolate pear and brandy hazelnut cake! I was cooking for friends this weekend, something I don't get to do very often because my flat doesn't actually really have a lounge or dining room, just a kitchen and a bit of space between that and my bedroom. But occasionally lovely friends let me muscle in on their kitchens and Do Cooking. Which you may have gathered I enjoy doing. Aside from being lovely, however, these particular friends have combined allergies and intolerances to lactose, gluten, onions and capsicum peppers, and one personal taste doesn't extend to mushrooms and aubergines (surely some of the best of vegetables?). Anyway, cooking for them is difficult, and I don't tend to like using flour replacements, so finding this flourless cake recipe on GoodFood was pretty chuffed. Also it tastes STUPIDLY GOOD, the perfect balance of lightness and indulgence, simple to make if you have a hand blender and whisk, and the best of flavours. I couldn't grind the hazelnuts very finely, but I also like the texture this gave. Make this. Do it.
Prep Time: 20 mins | Cook Time: 40 mins | Servings: Serves 8
Nutritional Info:  334 kcal, protein 5g, carbohydrate 28g, fat 23 g, saturated fat 9g, fibre 0g, sugar 28g, salt 0.28 g
Ingredients pic: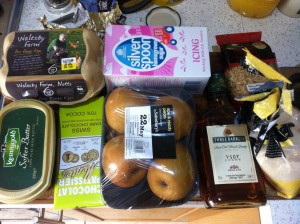 First thing, preheat your oven to 180'c, then find a 25cm-ish cake tin with one of those removable bottom things, draw a circle around the bottom onto some baking paper, cut it out. Melt the butter, put the tin back together, brush the bottom with butter, put the baking paper circle in, then brush again with butter, this time covering all the sides. Put a couple tbsp of caster sugar in and swirl it around until it's all stuck to the butter. Tip out excess and put aside.
Next, melt the butter and broken up chocolate together in a bowl, you can do this the old fashioned way, but I just stuck it in the microwave for 20 seconds at a time, stirring until the chocolate was 2/3 melted, then if you keep stirring it shouldn't be too hot, but the chocolate melts totally. Add a tbsp of brandy, and try not to eat it all.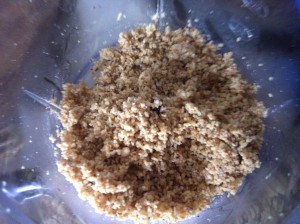 Then if you've forgotten to grind your hazelnuts, do that, I bought ready chopped ones and ground them a little further, if you're dealing with whole roasted hazelnuts, smash them a bit first if you've got a delicate blender.
separate the egg white and yolks, pour the sugar into the egg yolk bowl, and whisk until well creamy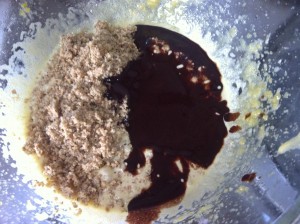 Then add the hazelnuts and cooled chocolate brandy butter and fold in. If you don't know how to fold, it's just using a big spoon to mix something together in as few strokes as possible – all the whisking is what gets the air into the cake when there's no flour to help it rise, so you want to keep that. kind of scoop from all sides from left to right and actually think 'folding' it together. Don't try and get the colour totally consistent, just combined.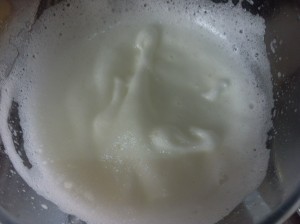 next whisk the eggs for ages until they form what they call 'soft white peaks' – basically all white and foamy, and when you lift a bit of the egg out it's stiff enough to form a 'peak' but one that droops down again afterward.
Then in 3 batches, fold that egg white into the chocolatey mix, three batches so you keep as much air as possible. Again do minimal folding, the image on the right is what I finished with.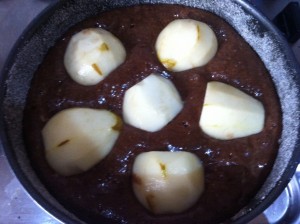 Pour the mix into the sugared tin, then pop your halved peeled, topped and bottomed, and cored pears (use proper real ones, not tinned, and get ready to eat ripe ones if you can't leave them to ripen. Makes all the difference) across the top. Bake in the oven for about 40 minutes, it's ready when a knife or other pointy thing comes out clean, and the pears are soft and lovely.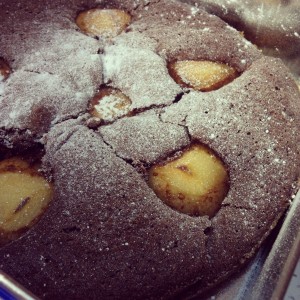 Take it out and let it cool for 5 minutes in the tin, then turn out onto a wire rack to cool more, and dust with icing sugar. Serve warm or cold with a good dollop of creme fraiche. NOM.