1 1/2 tbsp mild olive oil
1/2 large aubergine, cut into large-ish
1/2 red onion, chopped
2 garlic cloves, chopped
1/2 tbsp finely chopped fresh ginger
125g cherry toms on the vine
2-3 tbsp mild curry paste
pinch chilli powder
1/2 tbsp tomato puree
65g red split lentils
300ml water
1/2 handful fresh coriander, roughly chopped
100g dry weight rice
mango chutney and yoghurt to serve.
Back on the old vegan recipes, this one is an adapted version of a recipe from Easy Vegetarian One-Pot – it is both of those things, but I've made it EVEN EASIER, because I couldn't find anywhere in Loughborough to buy Curry Leaves (I didn't try VERY hard, but I did try) so did some modifications to allow that (spice tweaks, using ready made curry paste, etc.). I'll probably just get them off the internet, but I can't believe they'll make this any tastier, the adapted version is pretty damn tasty; I proper love aubergine, and the lentils make it very filling. ALL THE GOOD. Here comes the how-to:
Prep Time: 10 | Cook Time: 30 | Servings: 2
Nutritional Info: (changes were spices and curry paste so I think this will be the same)  169 kcal, 14g carbs, 11g fat, 5g protein. When served with 50g of rice (dry weight) and some mango chutney (20g) and soya yoghurt (75g), you're looking at 431 kcal, 67g carbs, 14g fat and 12g protein.
Ingredients: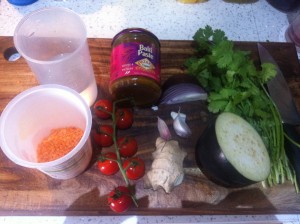 pop 1 tbsp of the oil in a pan and get it very hot, add the aubergine and fry until golden brown, about 5 mins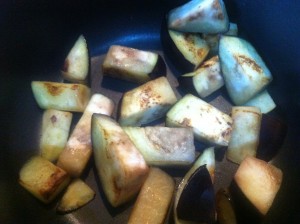 Remove the aubergine from the pan, and pop the rest of the oil in and soften the onion, garlic, and ginger (another 5 mins)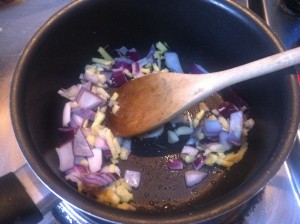 Add the cherry tomatoes and cook for 1-2 minutes, then remove those and put with the aubergine
Stir in the curry paste and tomato puree to the onion/garlic/ginger, and fry for 2 minutes until fragrant. FRAGRANT, I TELL THEE.
Add the water and lentils. Simmer for 15-20 minutes, adding more water if necessary, and stirring now and then to make sure the lentils aren't sticking to the bottom. Start the rice after 10-12 minutes of simmering.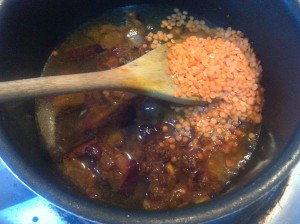 Another afterthought, after tasting the lentilly mix, not quite spicy enough, so added a pinch of chilli powder, so do this to taste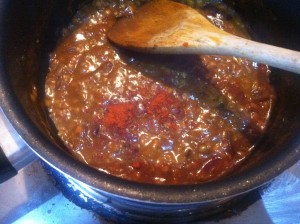 When the rice is off the heat and steaming through (directions for best rice over here, y'know), add the aubergine and tomatoes, stir until heated through, then add and stir in the coriander, and serve!
Totally vegan, reasonably seasonal (June-September, seasonal, really), very filling, quick, one-pot, and BLOODY TASTY. Everyone's happy.