Ingredients
5 tbsp rapeseed oil
225g self-raising flour
115g wholemeal flour
2 tsp baking powder
zest ½ lemon and 1 tsp juice
95g golden caster sugar
60g light muscovado sugar
1 small very ripe banana with black skin (about 85g peeled weight) (maybe try grated apple)
1 egg
284ml pot buttermilk (try yoghurt instead?)
225g fresh (and sweet) blueberries
Today I ordered what I think is technically known as a 'fuckton' of vegan baking books. I've decided to DOUBLE TEAM a vegan food fair in Leicester in a couple months with my mum. But they've not arrived yet. And I wanted to bake. So here I am, making non-vegan baked goods; deal with it. A classic of the muffins, this, with some nice touches (mashed banana, and the zesty lemon (is that tautologous?) with the pale sweet taste of blueberries really nice with sharpness of buttermilk). If you do want to de-lactose it, you can try using soya cream with a couple of tbsp of lemon juice stirred through to make up for the buttermilk. Can't do anything about the egg for vegans, but WORRY NOT, I'll be on that soon. This recipe is pretty unchanged from the original online, it's pretty good, but I've upped the sugar a little. Also, in terms of muffins, these are good, but they still don't rival the store cupboard ones. Which have blueberries in them, PLUS 3 EXTRA FRUITS, and cinnamon, I do like cinnamon. Also, I think if I was doing this again I might MIX IT UP and use sweet blackberries and grate in some apple. I am muffin-fickle.
Prep Time: 20 mins | Cook Time: 20-25 mins | Servings: 12
Nutritional info: (per muffin) 206 kcalories, protein 5g, carbohydrate 36g, fat 6 g, saturated fat 1g, fibre 2g, sugar 16g, salt 0.43 g
Ingredients: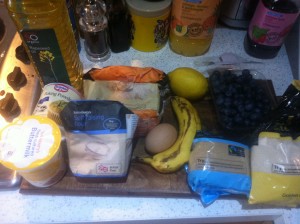 So, first off, preheat the oven to 200C/180C fan/gas 6. Sort out your muffin cases in tins. Then set aside 1 tbsp of the caster sugar, then combine the flours, baking powder, all the light sugar, the rest of the caster sugar, and the lemon zest in a large bowl. Mix. MIX!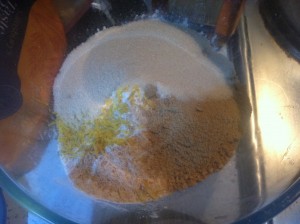 Mash the banana. Mashed banana does not look pleasant.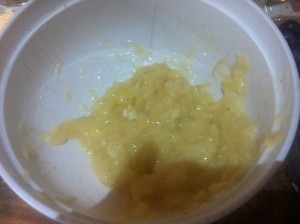 beat the egg, then add and mix together with the buttermilk, rapeseed oil, banana until smooth
So this is where you try to do AS LITTLE mixing as possible – the more you mix, the flatter your muggins get; add the liquid ingredients to the dry, and mix with a large metal spoon until just combined – add the blueberries just before it's looking combined, as they'll be delicate.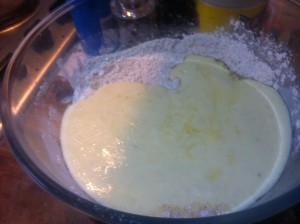 Spoon into muffin cases and bake for 20-25 minutes.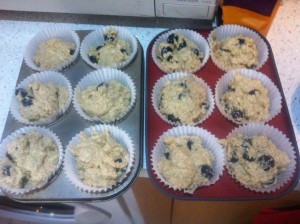 While that happens, squeeze half the lemon into the tbsp of sugar and mix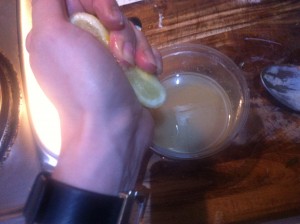 Just after the muffins come out of the oven, brush this sticky ace-ness over the top of each muffin. Leave the muffins to cool in the tin for at least 20 minutes more.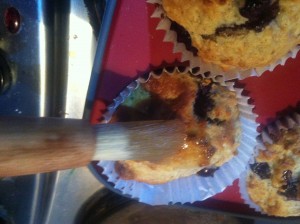 And there you go! Mm…