Butter, for greasing
100g raisins
3 tbsp sweet sherry
3 tbsp orange juice
3 large free-range eggs
175ml sunflower oil
200g light muscovado sugar
2 tsp ground cinnamon
225g self-raising flour
1/2 tsp baking powder
1/2 tsp bicarbonate of soda
50g shredded coconut
60g walnut pieces, plus extra for the topping
200g carrot, roughly grated
300g low-fat cream cheese
1-2 tbsp butter
300-500g icing sugar (you may not need all of this, but just in case)
1 tsp vanilla extract
It was my awesome mum's birthday yesterday, and today I had her and my brother around for dinner. This demanded BIRTHDAY CAKE, obviously, and I went for something a little non-traditional; my first attempt at carrot cake. I'm pretty damn proud of this, you know, about as proud as I was of my first Christmas cake. It was RIDICULOUSLY tasty, and the tweaks and major rewrites that I made along the way (mainly to do with fixing the icing) really worked. Seriously, best cake. You should totally make it. And then give it away. Because you basically ate at least 2 portions before even baking it.
Prep Time: 15 minutes | Cook Time: 45-60 minutes | Servings: 10-12
Nutritional Info: (based on it serving 12 – which is plenty!) 406kcals, 23g fat (6.5g saturated), 5.3g protein, 43.4g carbs, 27.8g sugar, 0.7g salt
Ingredients! (lots)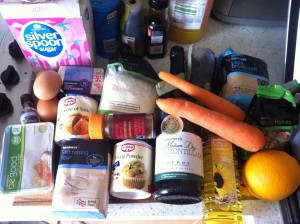 Preheat the oven to 180°C/fan160°C/gas 4. Grease a 22cm round take-apart cake tin with a little butter or oil. It's best for taking it apart if you put a nice bit of greaseproof paper on the bottom, too. Also, don't chop into your finger whilst simultaneously also making sweet potato and butternut squash soup for your lunch. That makes the whole process a lot easier. And less bloody.
soak the raisins in a simmering pan of 3 tablespoons freshly squeezed orange juice and 3 tablespoons of sherry (medium or sweet, ideally, but I used dry and it was fine) until the liquid has pretty much totally been absorbed.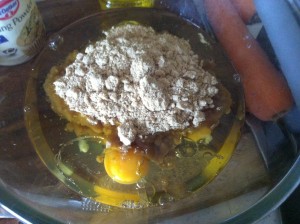 meanwhile put the eggs, sugar and oil in a bowl and whisk until creamy, at least 3 minutes with an electric whisk, or 5 with an ANALOGUE one.
amass all your dry ingredients; baking powder, bicarb, cinnamon, self raising flour, shredded coconut, bashed walnuts,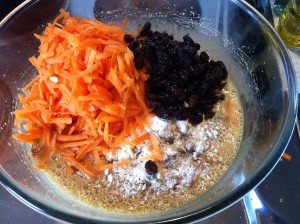 then when the raisins have drunk all the sherry/orange mix, combine all of the dry ingredients, plus the carrot and raisins, with the egg/sugar/oil mix, and fold together. Put into the cake tin and level the surface. I forgot to take a picture of that bit, so here's a picture of me hastily pulling the cake out at 3 minutes into the cooking stage. IT RISES FAST: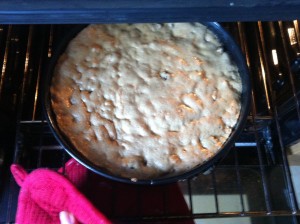 cook for 45 minutes or until a skewer comes out the center clean, this took much more like 65 minutes, for me, but keep checking after 45 minutes. When it's done, take it out and cool it in the tin, then turn out and cool for the last bit on a wire rack. Should be something like this when done:
Now if you like you can try the instructions for the cream cheese icing from the original recipe, here, which is: put 50g of icing sugar, 1 tsp vanilla essence, and 300g of cream cheese in a bowl and beat together. When that fails, and you just have a really runny gloopy mess, this is how you fix it. Put about a tbsp of butter (maybe 2) into a new bowl, beat it, and then add icing sugar and beat until you have a very stiff butter icing, then add the gloopy cheese mess bit by bit with icing sugar in turn, beating, to keep a stiff consistency, and until all the cheese mess is used up. It'll be glossier and a bit looser than regular butter icing, but still cheesy and strong enough to form well and set. Here's what it should look like: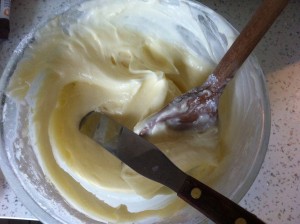 apply it to the cool cake with a palette knife, sprinkle with walnuts. Et voila! I promise you, this is ridiculously tasty. Make for friends to save devouring the whole thing in one sitting.