1 tablespoon sunflower oil
1 onion, chopped
450g pack vittoria tomatoes, cut into quarters
700g jar passata
250ml stock
1 - 3 teaspoons sugar
freshly ground black pepper
1 large pot basil, leaves torn
2 tablespoons single cream or 4 tablespoons of soya single cream
A good simple recipe, this, perfect for a rainy spring day. I seem to have developed a cold, so something warm for lunch was a must, and this creamy tomato soup is quick enough to make with low energy levels, and awesome enough to perk you up. I'm beginning to sound like an advert. Vegan when you use soya cream (and you can double up soya cream and still keep the fat content the same) – a brilliant comfort lunch.  Based on a simple recipe from Sainsbury's online, and pretty cheap apart from the tomatoes (which are worth investing in, as it's mostly all you taste!). Here we go…
Prep Time: 10 mins | Cook Time: 15 mins | Servings: 4
Nutritional info: (per 1/4, 350g approx) 138 kcal 18g carbs 6g fat 3g protein
Ingredients: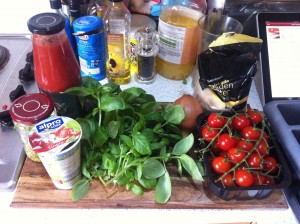 For a change, soften the onion in a large pan in the sunflower oil.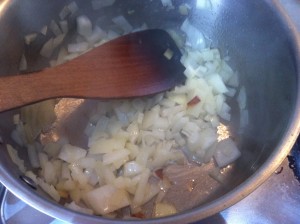 While this is happening, quarter all your lovely tomatoes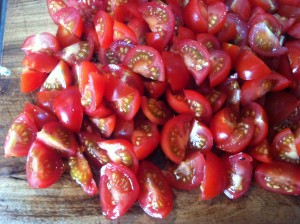 When the onions are softened, add the tomatoes, passata, and stock.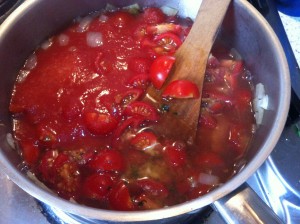 bring to the boil and simmer for 10 minutes. Then blend. Mmm. Blendy.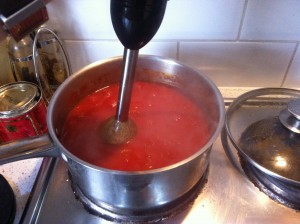 Add the sugar to taste (3 was just right for me)
Tear in your basil and simmer for 5 minutes more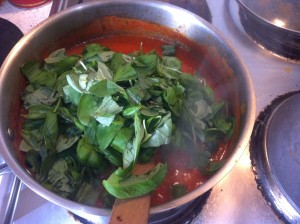 Then, just before serving, stir through the cream.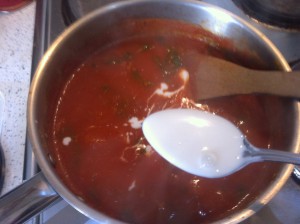 Mmm… creamy.